We want to help nonprofit organizations (NPO) working hard to make the world a better place. Vitextra offers a 50% discount to nonprofit organizations for all our applications and services.
Eligible Organizations
A nonprofit and non-governmental organization operating on a not-for-profit basis and have a mission that related but not limited to:
Promoting human rights
Providing relief to the poor
Preserving culture
Preserving or restoring the environment
How to Apply for NPO Discount
First of all, create an account on vitextra.com using your business email address that registered to the same domain as your NPO.
Processing time of the application
It takes up to seven days to review your application. We do our best to get back to you as soon as we can with a response.
How to apply the discount
Once your application is approved the discount will be applied automatically to all your purchases.
The discount will be presented in your cart as well as on the payment page like below: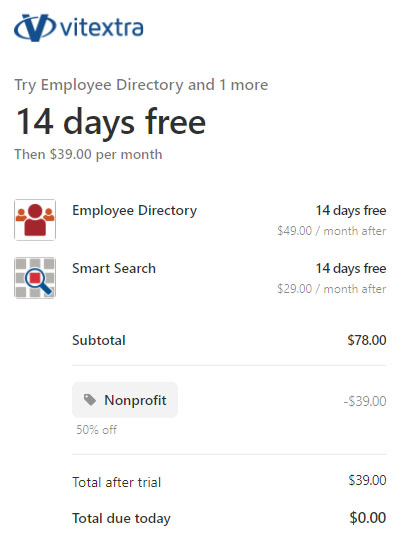 Terms and Conditions
Ineligible Organizations
The following types of organizations are ineligible for nonprofit discounts:
Individuals;
Private foundations;
Schools, colleges, and universities;
Government organizations or agencies;
Commerce and trade associations;
Nondiscrimination Policy
Organizations that engage in discrimination in hiring, compensation, termination, promotion, or retirement based on race, color, sex, national origin, religion, age, disability, gender identity or expression, marital status, pregnancy, sexual orientation, union membership, or political affiliation are not eligible to participate in this program.
Program Terms
Eligible participants must agree to Vitextra's terms and conditions.
Transfer and/or resale is strictly prohibited.
Not valid on previous purchases.
Vitextra reserves the right to modify or terminate this program at any time.
Vitextra reserves the right to refuse a sale to any eligible participant at its sole discretion.