Vitextra, provider of ready-to-use solutions, add-ons and web parts for Microsoft SharePoint, is proud to announce the first release of Short URL add-on for SharePoint on-premise.
This new add-on makes it possible to create shorterner links to any content within your corporate portal as well as any external resources.
Improve Sharing And Email Deliverability
Vitextra Short URL allows you to create meaningful, clear and customizable short links. Employees recognize what the page or document is about at once and get an idea of the link content. Short URL like portal.company.com/nda will definitely succeed in capturing the attention.


We advise using short links to prevent emails from ending up in a spam folder.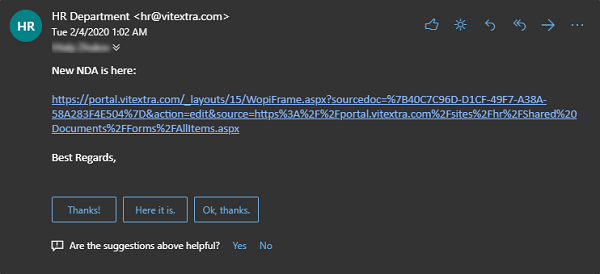 Track Statistics Of Short Links
Tracking short links within your SharePoint Environment allows you to achieve such goals as user activity tracking, document viewing log.
Vitextra Short URL provides a built-in feature of tracking Short link clicks.
Statistics of short links usage include:
Click Count
Date and time of each click
OS
Browser
Referrer
For more detailed reports and dashboards you can use PowerBI to connect to usage details. All usage data located on your SharePoint site and stored in a regular list.
Reorganize Site Hierarchy
Vitextra Short URL allows you to perform reorganization of site hierarchy by replacing old links with new ones or fix a misspelling in an existing URL.
Another way to use Vitextra Short URL is to prevent viewing of existing site or page by overriding the URL of the site or page. In this case, the user will be redirected to the address you specified.
Short URL created with the Vitextra solution may contain an expiration date, so the link will stop working exactly after the date you've defined.