Employee Details Web Part for SharePoint Online and Microsoft Teams
Customizable View of User Profiles
Microsoft Teams Integration
Choose User Properties available for update
Self-Update User Profiles
Navigation based on Manager-Subordinate Relationships
Export Employee Information to vCard (.vcf)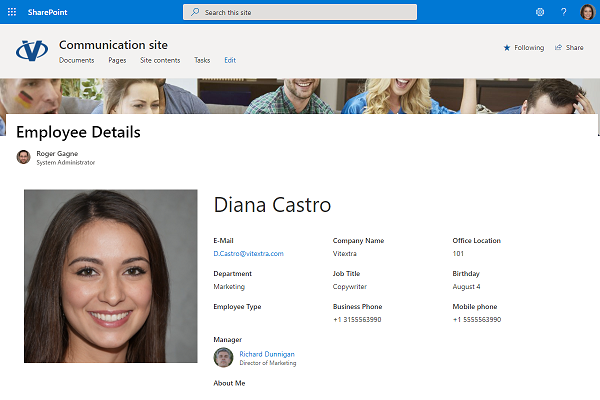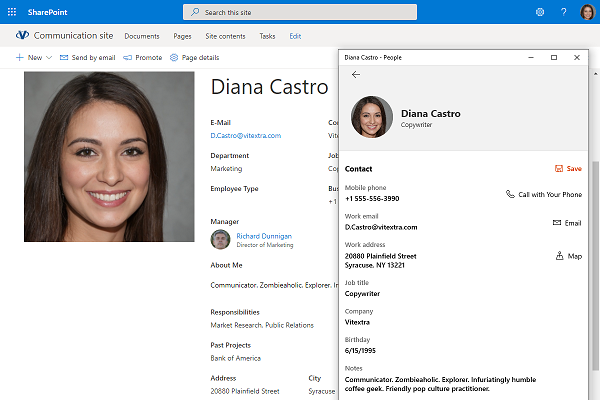 Customizable View
Vitextra Employee Details Web Part makes it possible to configure the user profile form according to your needs. You can choose user attributes that show up on the form and their order.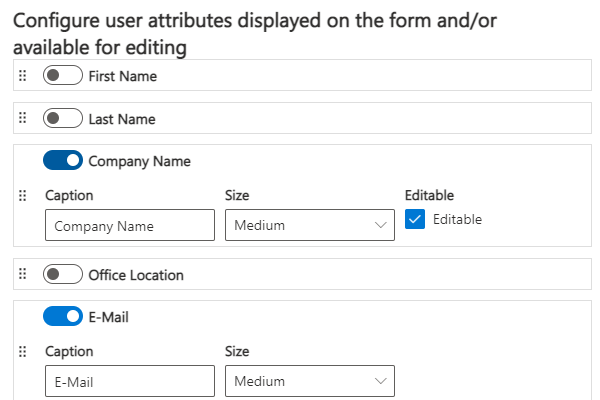 Microsoft Teams Integration
Employee Details supports Microsoft Teams Channel Tab mode as well as Personal App to boost productivity by eliminating context switching. Hosting Employee Details web part in Microsoft Teams allows users to view or update their profile information with their mobile devices.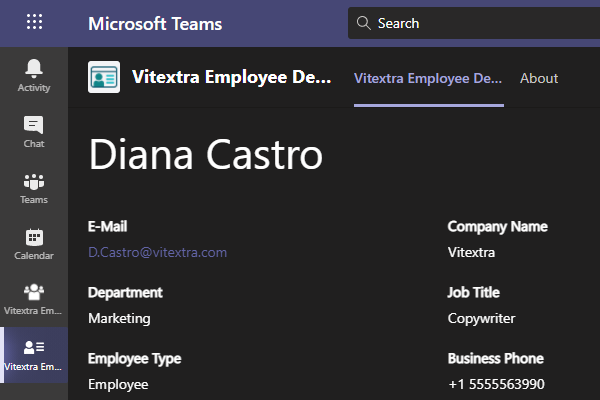 Export to vCard
Export information about any employee in your organization to Virtual Contact File (.vcf) file.
Generated VCF-file contains all the data including photo, contact information and other attributes.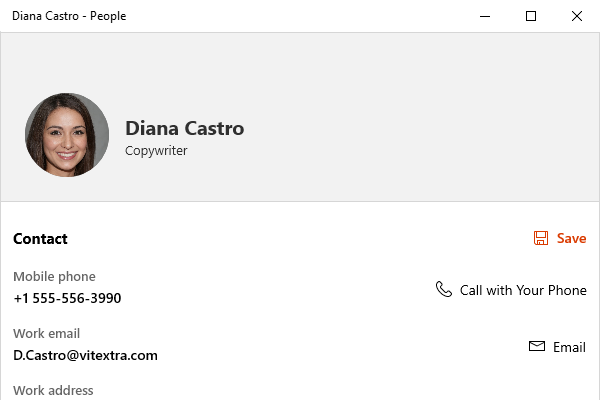 Self-Update User Profiles
Allow users to update their own profile in SharePoint or Teams without intervention from IT.
Most popular properties from Azure AD are supported, including email, department, skills, responsibilities, address, etc.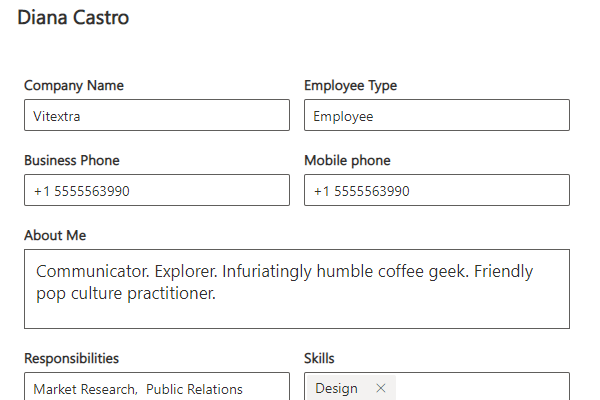 No reviews yet
Be the first to review this product.
Supported Languages
العربية (المملكة العربية السعودية)
中文(中国)
čeština (Česko)
dansk (Danmark)
Nederlands (Nederland)
English
suomi (Suomi)
français (France)
Deutsch
Ελληνικά (Ελλάδα)
italiano (Italia)
日本語 (日本)
қазақ тілі (Қазақстан)
한국어(대한민국)
latviešu (Latvija)
norsk bokmål (Norge)
polski (Polska)
русский
español (España, alfabetización internacional)
svenska (Sverige)
ไทย (ไทย)
Türkçe (Türkiye)
українська (Україна)
Show more Show Less
Platforms
SharePoint Online
Microsoft Teams
1/24/2021
🚀 New Features:
New Employee Information Web Part
⚙️ Improvements:
Increased the size of the picture for the manager and direct reports
---
Discover more apps
---
Suggested apps
Send feedback
---
We would love to hear from you! Please take a moment to let us know about your experience.
We received your message. Many thanks!