Web Part to search users within SharePoint Online User Profiles as well as Azure AD.
Microsoft Teams Integration
User Presence
Single Part App Pages
Supporting Dark Mode
Search People within User Profiles
Search People in Azure AD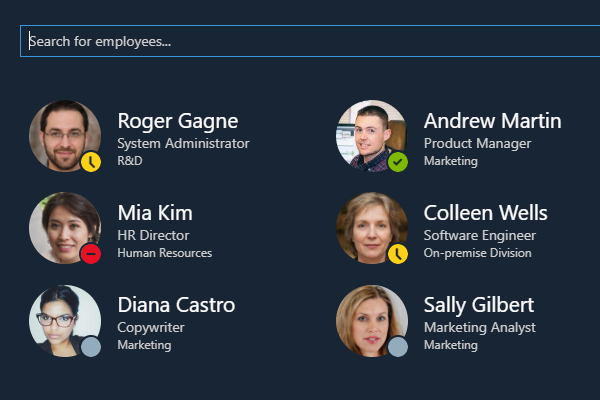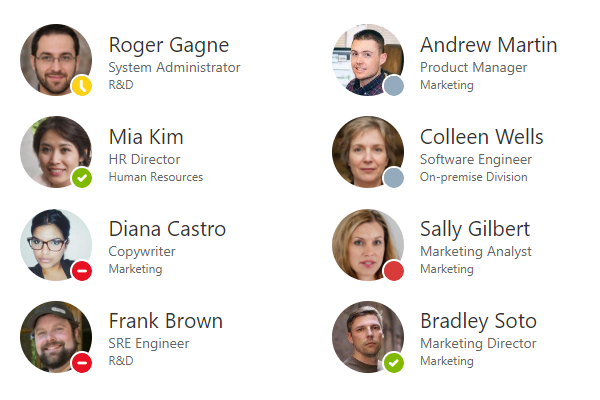 Search People within User Profiles and Azure AD
With Vitextra Employee Directory, you can use the SharePoint Search service and Azure AD as a data source for the App.
Searching users within User Profiles via Search Service makes it possible to use information from such particular fields as Interests, Skills, Office Location, and others to search people not limited to just their name, email, or job title.
On the other hand, Azure AD as a data source for the employee directory allows you to hide employees from the search results if their accounts are disabled.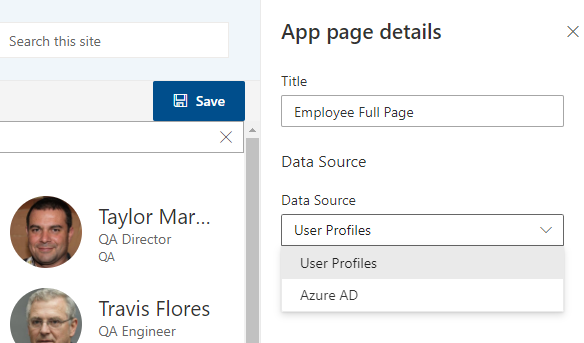 Microsoft Teams Integration
Employee Directory App can be placed right in Teams Channel to boost productivity by eliminating context switching.
Using Employee Directory in Microsoft Teams allows users to search for people with their mobile devices.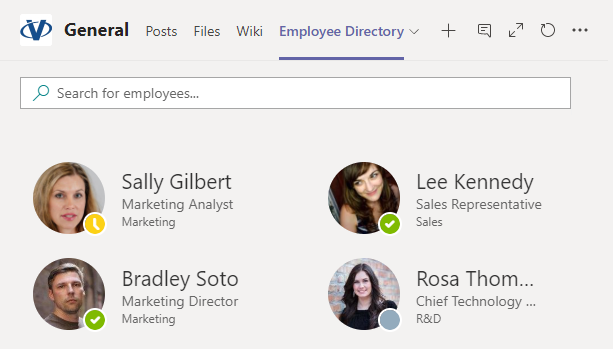 User Presence
Anyone in your organization with Employee Directory App can see (in nearly real-time) other users' presence status. Employee Directory uses Microsoft Graph to get this information regardless of the data source (User Profiles or Azure AD).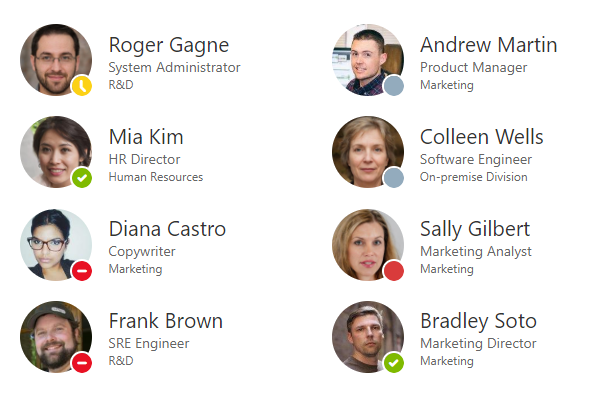 Appearance Settings
Choose the size of the persona card and fields presented. You can select up to four user properties to show up on the persona card and the size of the card.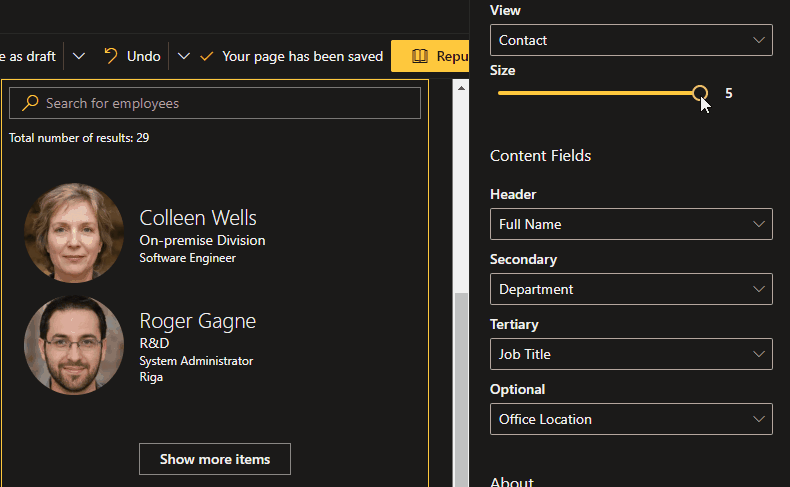 Details and Cards View
There are two types of layout you can switch between:
Details. Search results are presented in the table view. Columns are presented in the table, and You can change their order with App settings.
Cards. Search results presented with native SharePoint control. Attributes used in control are not configurable.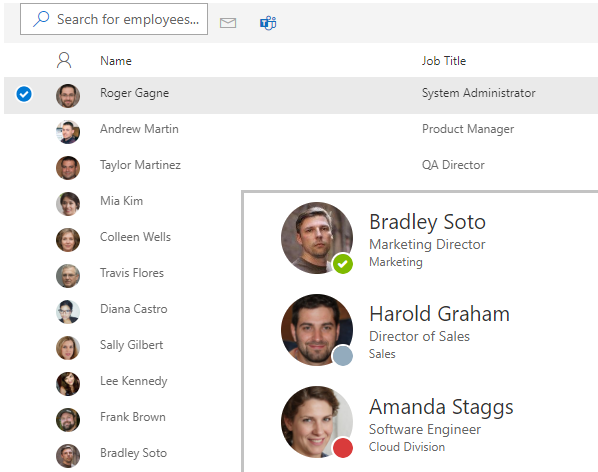 Theme Variants
You can set a background color for each section on the SharePoint Modern Page. Employee Directory supports this functionality and automatically changes the theme of the web part according to the selected theme variant.
Change of the section background does not affect web parts located in other sections.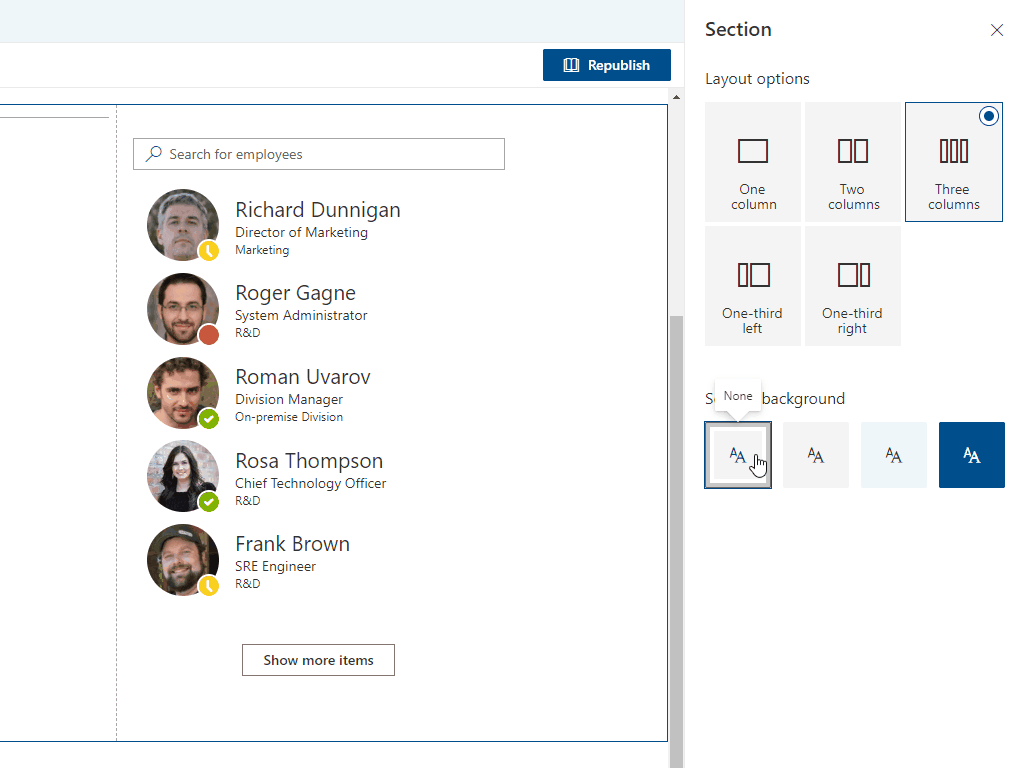 Dark Mode
Dark Mode is supported on SharePoint Modern Page as well as in Microsoft Teams. The App switches the mode automatically to the current environment settings. In the case of the App is running on SharePoint Modern Page, it applied current theme settings.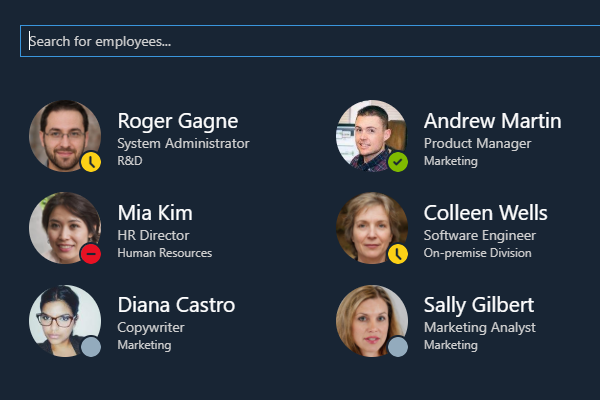 Knowledge Base
---
Read articles related to Employee Directory
Customer Questions
Some common questions about Employee Directory
How can I update attributes for each individual employee/user?
The Employee Directory does not support update user attributes. The app only shows data from User Profiles or Azure AD.
To edit user attributes we provide another solution for SharePoint Online - Employee Details.
---
Can I expand Employee Directory to fill the entire page?
---
How can I switch Employee Directory Web Part to Dark Mode?
There is no a Dark/Light option in Employee Directory. The Web Part inherits the color theme from the site where it's presented.
---
Can I use custom Data Source for Employee Directory such as List or SQL Server database?
No. You are able to choose the data source between Azure AD and User Profiles.
---
Is it possible to display custom attributes?
---
Does Employee Directory support SharePoint 2016 or 2019?
No. Employee Directory can not be installed on SharePoint on-premise version. SharePoint Online and Microsoft Teams are supported for the installation of the web part.
---
Kris Horner
Great add-in for SharePoint
Thanks for your work! We'd like to have a one-time purchase option instead of a subscription.
Antônio
very good solution
it's a very good solution for our company
Supported Languages
العربية (المملكة العربية السعودية)
euskara (euskara)
български (България)
中文(中国)
hrvatski (Hrvatska)
čeština (Česko)
dansk (Danmark)
Nederlands (Nederland)
English
eesti (Eesti)
suomi (Suomi)
français (France)
galego (galego)
Deutsch
Ελληνικά (Ελλάδα)
עברית (ישראל)
हिन्दी (भारत)
magyar (Magyarország)
Indonesia (Indonesia)
italiano (Italia)
日本語 (日本)
қазақ тілі (Қазақстан)
한국어(대한민국)
latviešu (Latvija)
lietuvių (Lietuva)
македонски (Северна Македонија)
Melayu (Malaysia)
norsk bokmål (Norge)
polski (Polska)
português (Brasil)
português (Portugal)
română (România)
русский
slovenčina (Slovensko)
slovenščina (Slovenija)
español (España, alfabetización internacional)
svenska (Sverige)
ไทย (ไทย)
Türkçe (Türkiye)
українська (Україна)
Tiếng Việt (Việt Nam)
Show more Show Less
Platforms
SharePoint Online
Microsoft Teams
8/6/2023
🐞 Fixed Bugs:
#22122 Asterisk appearing in search bar
---
6/26/2023
Minor bug fixes and improvements
---
Discover more apps
---
Suggested apps
Send feedback
---
We would love to hear from you! Please take a moment to let us know about your experience.
We received your message. Many thanks!