Comprehensive Filter Web Part allowing you to find data within your SharePoint lists and document libraries
Support AND/OR operator
Export filtered data to Excel
Customizable captions
10+ different types of controls
Flexible layout
Supports diacritical marks variations
Multiple selections in drop-down lists
Supports Taxonomy
Prevent data view until filtering is applied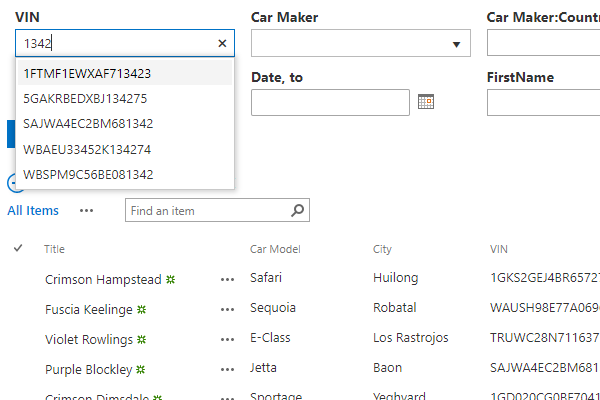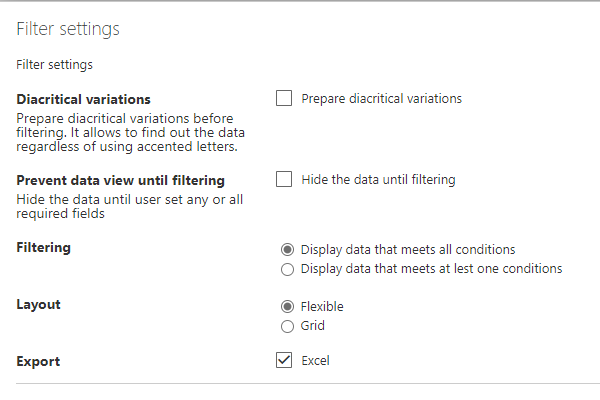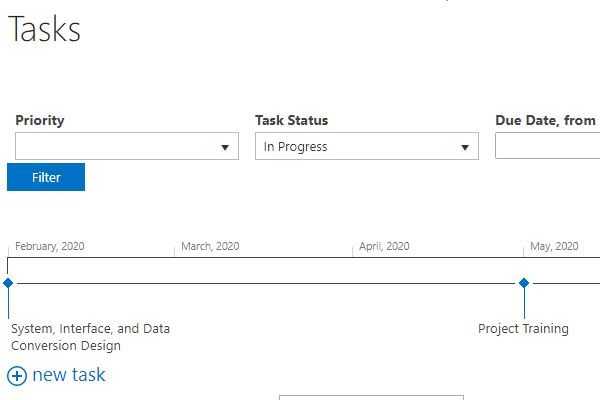 Support of AND/OR conditional operators
When filtering by several columns of a list or library, you can choose one of the List Filter behavior:
Show data that meets all the criteria
Show data that meets at least one of the criteria
This always applies the filter specified in the view.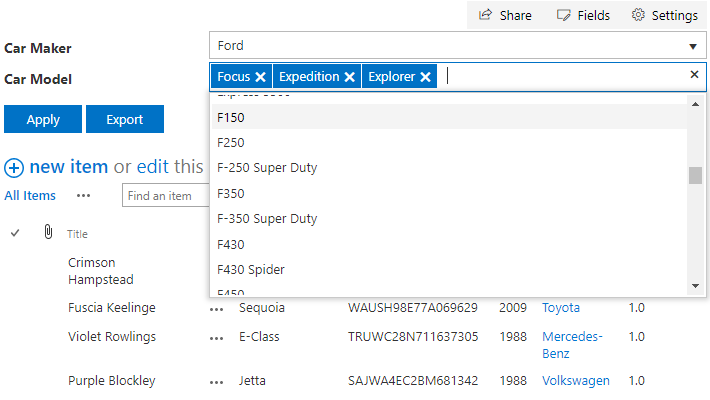 Export data to Excel
Export data from a list or document library to Microsoft Excel.
The Excel file contains all the columns of the selected view and all the data regardless of their number.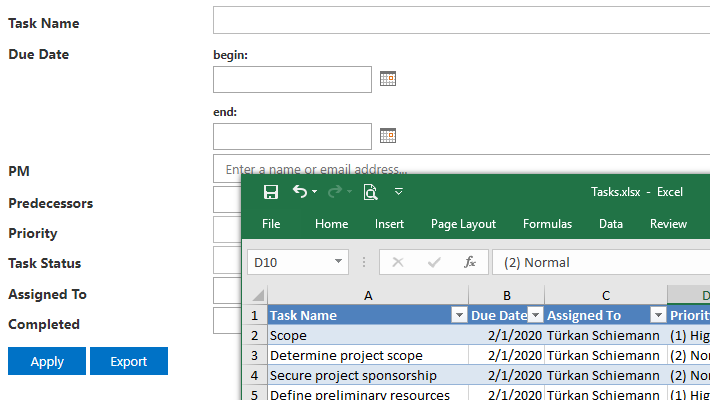 Filter Panel Layouts
Support for two types of filter layout: grid and flexible.
When using grid layout filtering controls are placed from top to bottom and each of them occupies a separate line.
Flexible layout allows you to arrange filter controls more compactly, the size of each control in this case depends on the screen width.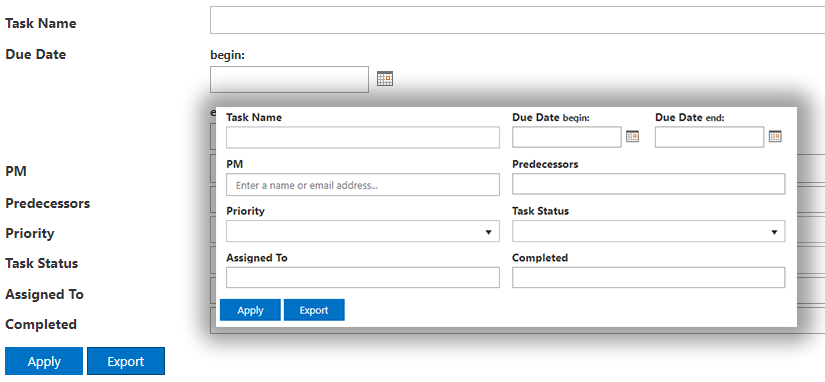 14 Different Filtering Controls
A large set of special filters for productive work:
Date and Date range
Users or groups
Managed metadata
Dropdown list (multiple values)
Autocompletion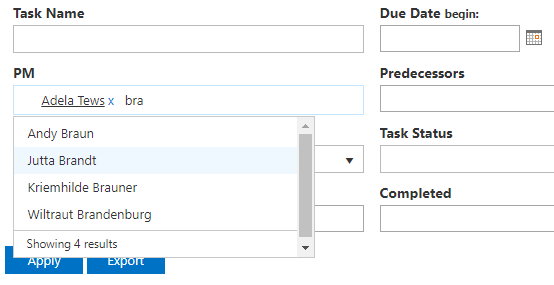 Knowledge Base
---
Read articles related to List Filter
Customer Questions
Some common questions about List Filter
Can I connect List Filter to different list view web parts at the same time?
No. List Filter Web Part can be connected only to one list or library.
---
Is it possible to export SharePoint list to Excel file without performing the filtering?
Yes. Exporting list data to Excel file does not require an applied filter. In this case, data will be filtered based on the view (if applicable).
---
How can I install List Filter on SharePoint Online?
No way. List Filter Web Part can not be deployed to SharePoint Online. Only SharePoint on-premise (2013/2016/2019) is supported for the installation.
---
Is it possible to change color theme of the List Filter?
---
Jessica Gorman
New filter options
I'm wondering when you will add 'contains data' and 'contains no data' options for filter criteria? Thanks ahead.
Ivan
Must-have add-on for SharePoint
We use this filter since 2014 when it was free. Filtering capabilities of the web part help us to cover well-known SharePoint gaps such as date/number range filtering, multiple values selection, and autocomplete feature.
David
Great product
Thanks for this great webpart, you have made my day.
Supported Languages
中文(中国)
English
français (France)
Deutsch
italiano (Italia)
日本語 (日本)
latviešu (Latvija)
русский
español (España, alfabetización internacional)
Türkçe (Türkiye)
Show more Show Less
Platforms
SharePoint 2019
SharePoint 2016
SharePoint 2013 Server
9/11/2022
🐞 Fixed Bugs:
#10079 Date Picker is not working for non-Gregorian values
#10081 List Picker broken for lookup column
---
1/20/2021
🐞 Improvements:
Filtering hierarchical list view such as Tasks
---
12/17/2020
🐞 Fixed Bugs:
🚀 New Features:
Apply filter on press Enter
---
Discover more apps
---
Suggested apps
Send feedback
---
We would love to hear from you! Please take a moment to let us know about your experience.
We received your message. Many thanks!