List Filter Online
Web Part to search content of lists and libraries with customizable filter panel.
Full-featured Query Builder
Date Range Filtering
Export Data to Microsoft Excel
Customizable Filtering Panel
Native SharePoint UI Elements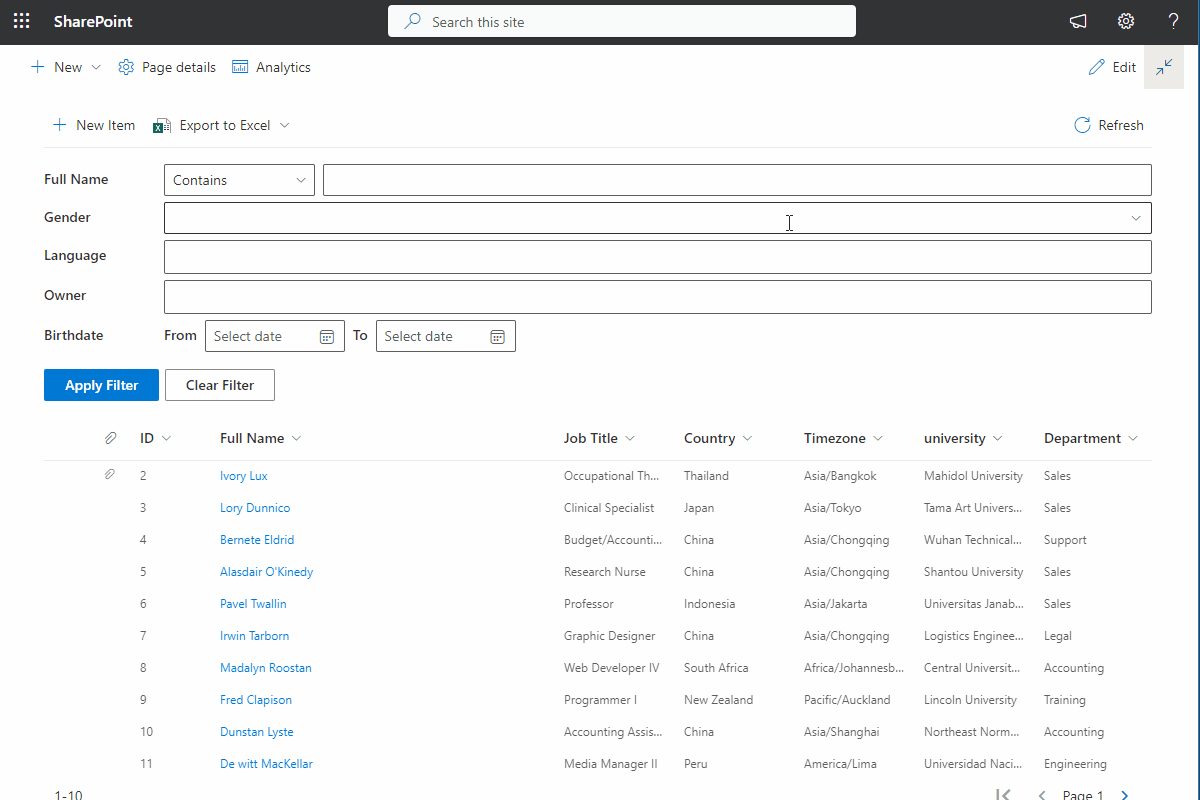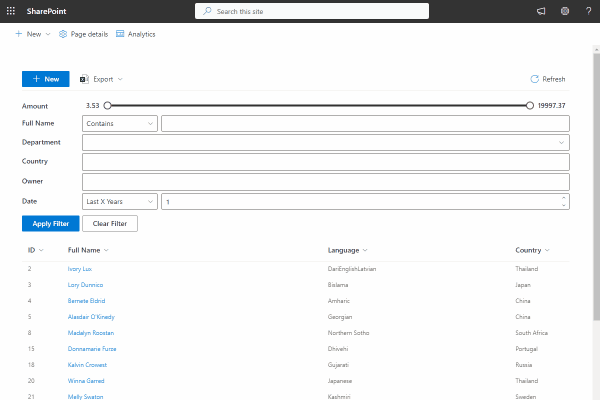 Customizable View
A fully customizable data view lets you choose which columns to display, their name, and how the data is displayed. You can also configure the availability of filtering and sorting for end users.
Query Builder
The built-in query builder allows you to create a complex CAML query to get data from a list or library. The web part provides a set of static conditions such as Equals, Does not equal, and Date Range as well as dynamic conditions such as Current User, Last Year, last X Months, and others.
You can combine filter conditions into AND/OR groups. Groups can be nested; the maximum nesting depth of groups is ten.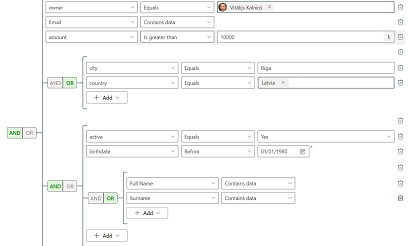 Filter Panel
A customizable filtering panel allows you to select columns available to users to search for data in a list or library.
List Filter Online provides more than ten different filtering controls, such as People Picker, Term Picker, Date Range, Combobox, and others, to make filtering data easy and efficient.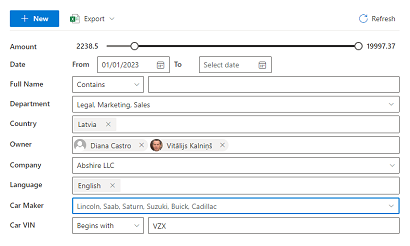 Export to Excel
With List Filter Online, you can export the results to Microsoft Excel. The web part supports three export scopes: selected items, current page, or all items. The last one requires retrieving data page by page and may take a while.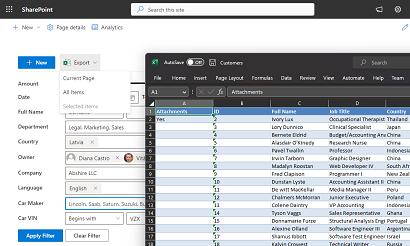 Customer Questions
Some common questions about List Filter Online
What permissions are required for the app?
List Filter Online does not require additional permissions in the Microsoft Graph API. The web part uses only native SharePoint API.
---
Does the App support on-premise installation (SharePoint Server)?
No. The List Filter Online supports only SharePoint Online and Microsoft Teams as hosting platforms.
---
No reviews yet
Be the first to review this product.
Supported Languages
العربية (المملكة العربية السعودية)
euskara (euskara)
български (България)
中文(中国)
hrvatski (Hrvatska)
čeština (Česko)
dansk (Danmark)
Nederlands (Nederland)
English
eesti (Eesti)
suomi (Suomi)
français (France)
galego (galego)
Deutsch
Ελληνικά (Ελλάδα)
עברית (ישראל)
हिन्दी (भारत)
magyar (Magyarország)
Indonesia (Indonesia)
italiano (Italia)
日本語 (日本)
қазақ тілі (Қазақстан)
한국어(대한민국)
latviešu (Latvija)
lietuvių (Lietuva)
македонски (Северна Македонија)
Melayu (Malaysia)
norsk bokmål (Norge)
polski (Polska)
português (Brasil)
português (Portugal)
română (România)
русский
slovenčina (Slovensko)
slovenščina (Slovenija)
español (España, alfabetización internacional)
svenska (Sverige)
ไทย (ไทย)
Türkçe (Türkiye)
українська (Україна)
Tiếng Việt (Việt Nam)
Show more Show Less
Platforms
SharePoint Online
Microsoft Teams
9/17/2023
Minor bug fixes & Improvements
---
4/24/2023
Bug fixes and performance improvements
---
1/30/2023
🚀 New Features:
Added support of Microsoft Teams as a hosting platform
🐞 Fixed Bugs:
Minor bug fixes and improvements
---
Discover more apps
---
Suggested apps
Send feedback
---
We would love to hear from you! Please take a moment to let us know about your experience.
We received your message. Many thanks!