Vitextra My Tasks web part makes it possible to get all your tasks from Microsoft 365 services and applications:
To Do (including Outlook flagged emails)
SharePoint Tasks
Project Online Tasks
Planner Tasks
Azure DevOps Work Items
You can customize view, choose sources and filter the list of your tasks.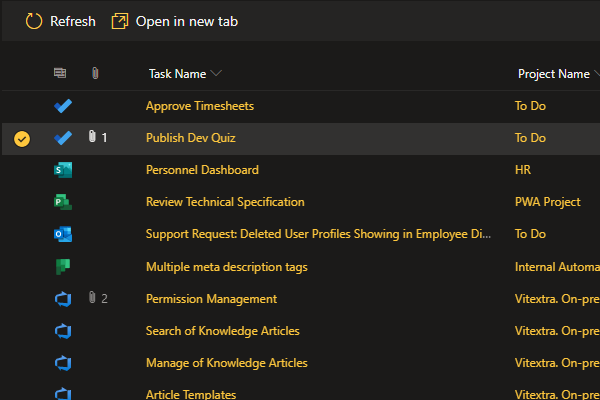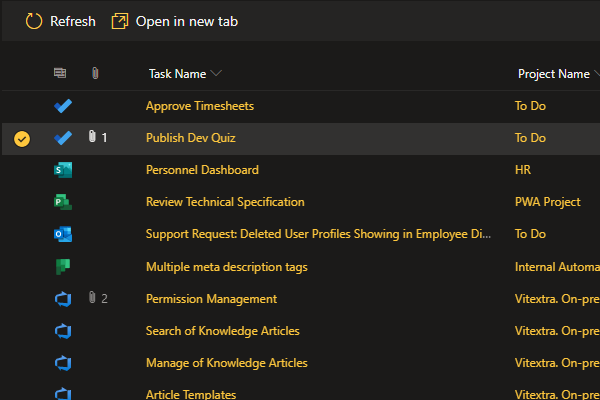 All Your Tasks in One Place
View all tasks assigned to you in one place. My Tasks web part makes it possible to aggregate tasks and work items from many Microsoft 365 applications and services (including flagged emails in Outlook) to get things done.
Supported services and applications:
Microsoft To-Do
Flagged Emails
SharePoint Tasks
Project Online
Planner
Azure DevOps (VSTS)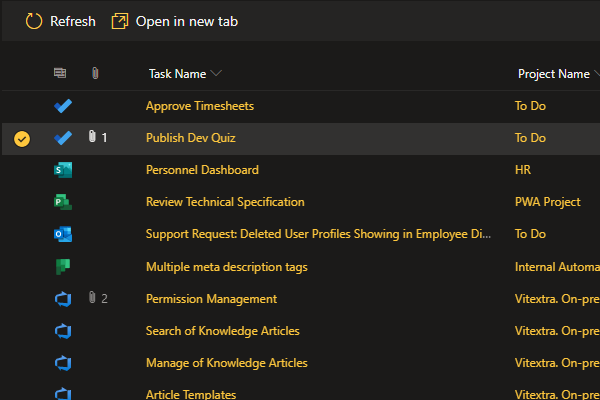 No reviews yet
Be the first to review this product.
Localization
العربية (المملكة العربية السعودية)
中文(中国)
čeština (Česko)
dansk (Danmark)
English
français (France)
Deutsch
italiano (Italia)
日本語 (日本)
latviešu (Latvija)
русский
español (España, alfabetización internacional)
Türkçe (Türkiye)
українська (Україна)
Show more Show less
Platforms
SharePoint Online
Microsoft Teams
7/20/2021
🚀 New Features:
Support Theme Variants
Support Teams personal app and channel tab
Auto refresh tasks list
---
11/1/2020
🚀 New Features:
Configure predefined view of the task list
---
Send Us Feedback
---
We would love to hear from you! Please take a moment to let us know about your experience.
We received your message. Many thanks!