With the Questions and Answers web part, users can easily post questions and receive answers from fellow colleagues, subject matter experts, or the broader corporate community. This fosters collaboration, encourages knowledge sharing, and promotes a culture of learning within the organization.
Customizable Appearance
End-users may ask questions directly
Markdown Syntax
Based on Microsoft Lists
SharePoint Theme Inheritance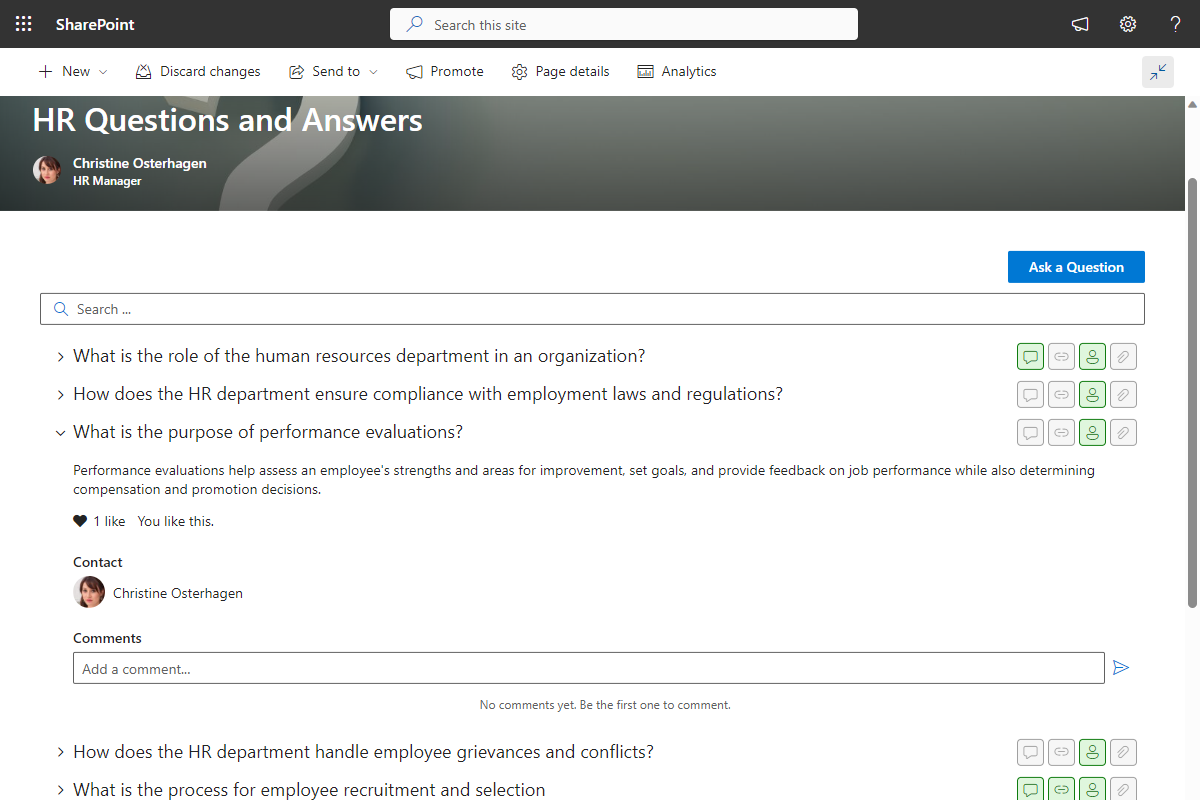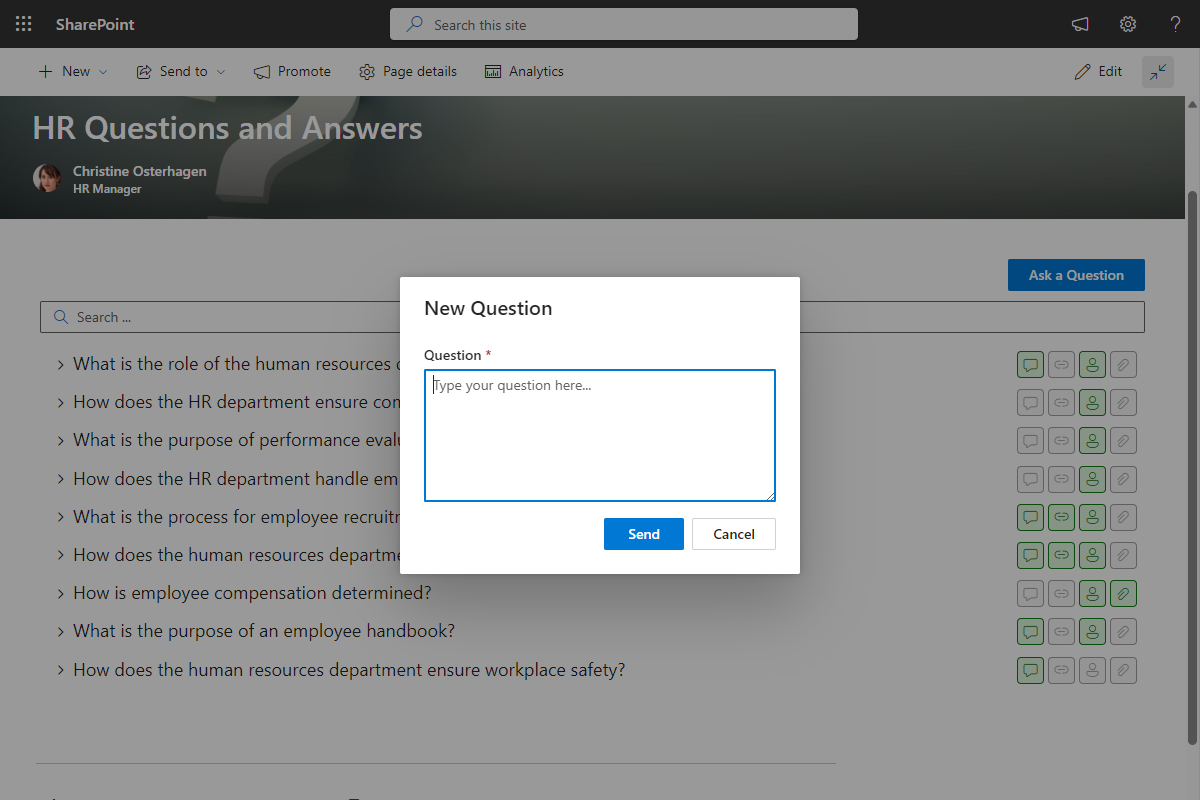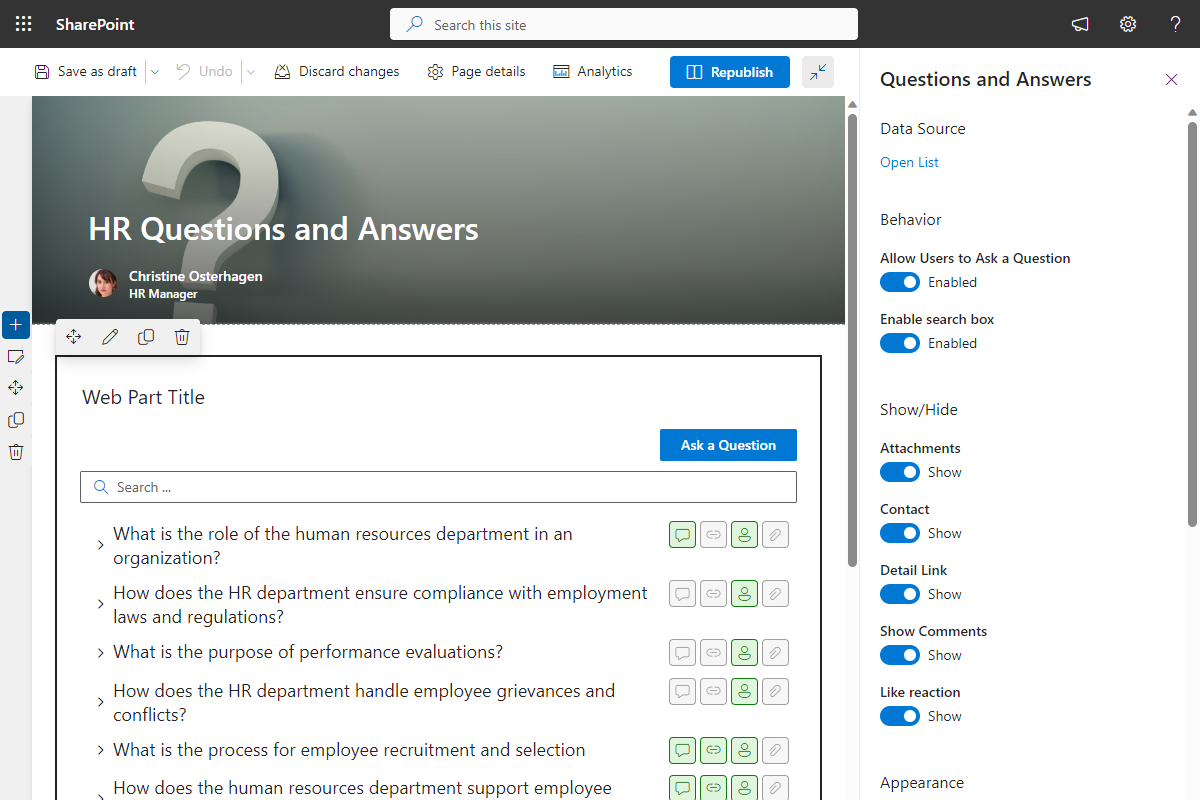 The friendly interface allows users to easily navigate through questions, view answers, and contribute to the discussion. Users can also vote on answers to indicate their usefulness, helping to highlight the most accurate and relevant. In addition, the web part offers powerful search capabilities, allowing users to quickly find answers to their specific questions by simply typing in keywords or phrases.
This promotes efficiency and reduces redundancy, as users can easily locate existing answers before posting new questions. The Questions and Answers web part can be customized to suit the organization's needs and branding. It seamlessly integrates with the SharePoint Online environment, ensuring a seamless user experience and easy adoption. Overall, the Questions and Answers web part is a valuable tool within Microsoft SharePoint Online & Teams, empowering users to collaborate, share knowledge, and find answers efficiently and effectively.
Capture Topics From Users
Vitextra Questions and Answers allows your team to ask questions directly within the web part.
Once a question is captured it's stored in Microsoft Lists so the content manager can add an answer as well as other properties such as:
Category to group questions
Link to the resource where users can find more information
Contact person who can be contacted regarding the topic
Attachments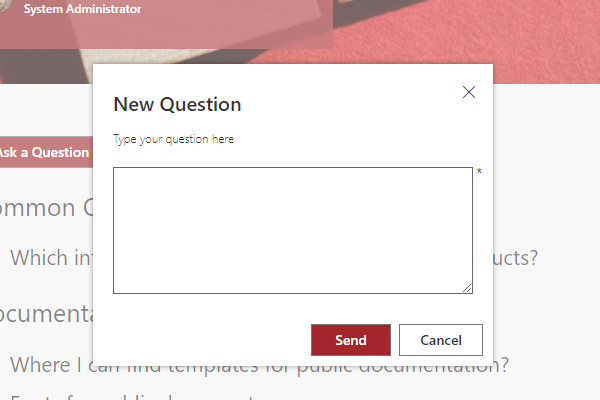 Microsoft Lists Integration
All the data stored in Microsoft Lists, it makes possible to use built-in functionality:
Share and Manage Permissions for the list
Customize list (views, columns)
Add automation with Power Automate
No reviews yet
Be the first to review this product.
Supported Languages
العربية (المملكة العربية السعودية)
euskara (euskara)
български (България)
中文(中国)
hrvatski (Hrvatska)
čeština (Česko)
dansk (Danmark)
Nederlands (Nederland)
English
eesti (Eesti)
suomi (Suomi)
français (France)
galego (galego)
Deutsch
Ελληνικά (Ελλάδα)
עברית (ישראל)
हिन्दी (भारत)
magyar (Magyarország)
Indonesia (Indonesia)
Gaeilge (Éire)
italiano (Italia)
日本語 (日本)
қазақ тілі (Қазақстан)
한국어(대한민국)
latviešu (Latvija)
lietuvių (Lietuva)
македонски (Северна Македонија)
Melayu (Malaysia)
norsk bokmål (Norge)
polski (Polska)
português (Brasil)
português (Portugal)
română (România)
русский
slovenčina (Slovensko)
slovenščina (Slovenija)
español (España, alfabetización internacional)
svenska (Sverige)
ไทย (ไทย)
Türkçe (Türkiye)
українська (Україна)
Tiếng Việt (Việt Nam)
Cymraeg (Y Deyrnas Unedig)
Show more Show Less
Platforms
SharePoint Online
Microsoft Teams
9/10/2023
🚀 New Features:
#22130 Like reaction support for questions
---
7/10/2022
🚀 New Features:
Search items in knowledge base
Comments on items
Support Teams Tab
Performance improvements
Migrate solution to SPFx v.1.15
🌐 Added Language Support:
Arabic (Saudi Arabia)
Basque (Basque)
Bulgarian (Bulgaria)
Chinese (Simplified, China)
Croatian (Croatia)
Czech (Czechia)
Danish (Denmark)
Dutch (Netherlands)
Estonian (Estonia)
Finnish (Finland)
French (France)
Galician (Galician)
Greek (Greece)
Hebrew (Israel)
Hindi (India)
Hungarian (Hungary)
Indonesian (Indonesia)
Irish (Ireland)
Italian (Italy)
Japanese (Japan)
Kazakh (Kazakhstan)
Korean (Korea)
Latvian (Latvia)
Lithuanian (Lithuania)
Macedonian (Macedonia, FYRO)
Malay (Malaysia)
Norwegian Bokmål (Norway)
Polish (Poland)
Portuguese (Brazil)
Portuguese (Portugal)
Romanian (Romania)
Slovak (Slovakia)
Slovenian (Slovenia)
Spanish (Spain, International Sort)
Swedish (Sweden)
Thai (Thailand)
Turkish (Turkey)
Vietnamese (Vietnam)
Welsh (United Kingdom)
---
Discover more apps
---
Suggested apps
Send feedback
---
We would love to hear from you! Please take a moment to let us know about your experience.
We received your message. Many thanks!