The Quick Poll allows you to create and publish instant, real-time polls.
Single choice and multiple-choice questions
Anonymous Voting
Four different chart types for data visualization
Colorful Results Display
Display poll results immediately after submitting vote
Collected responses are stored within SharePoint site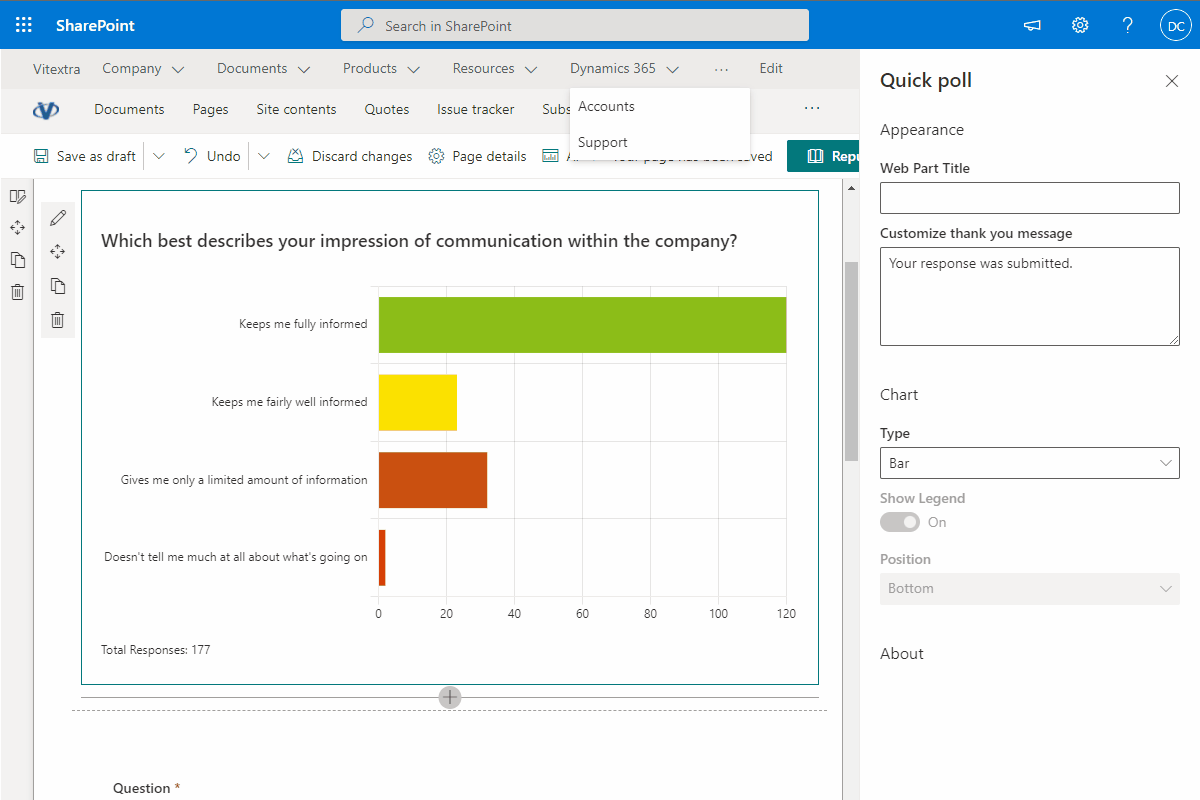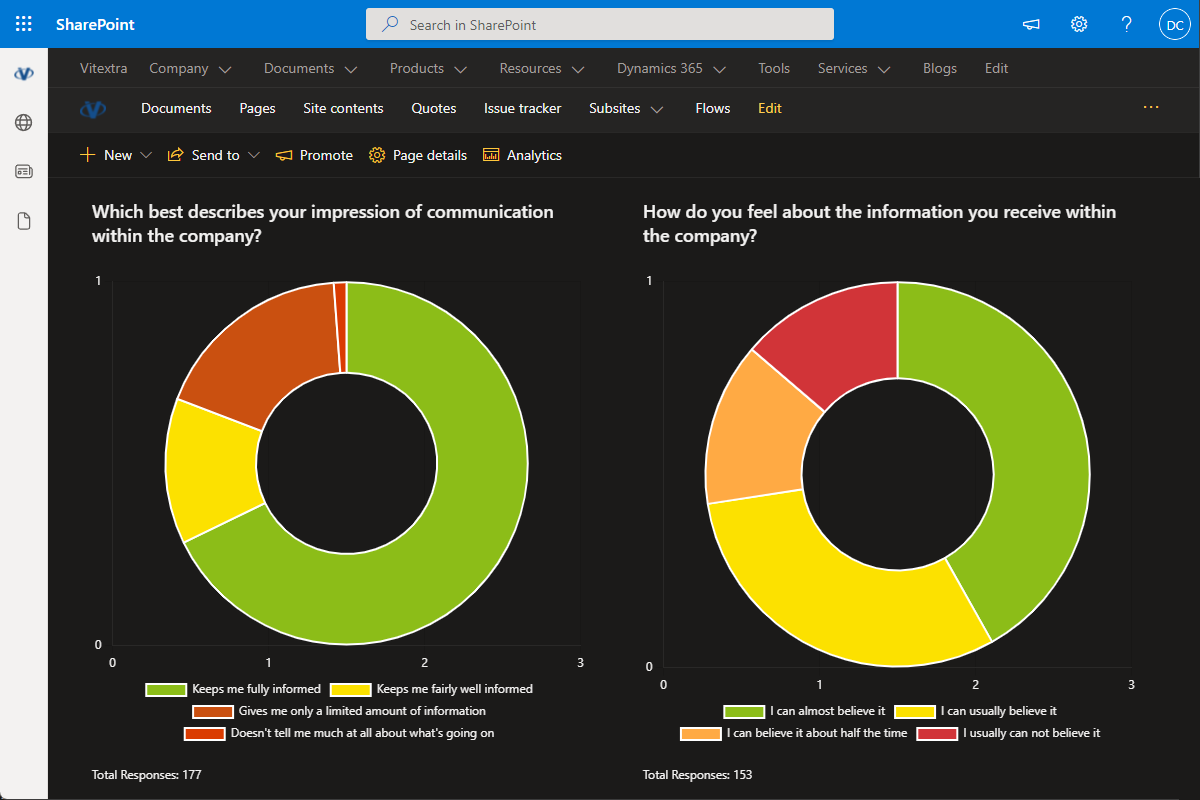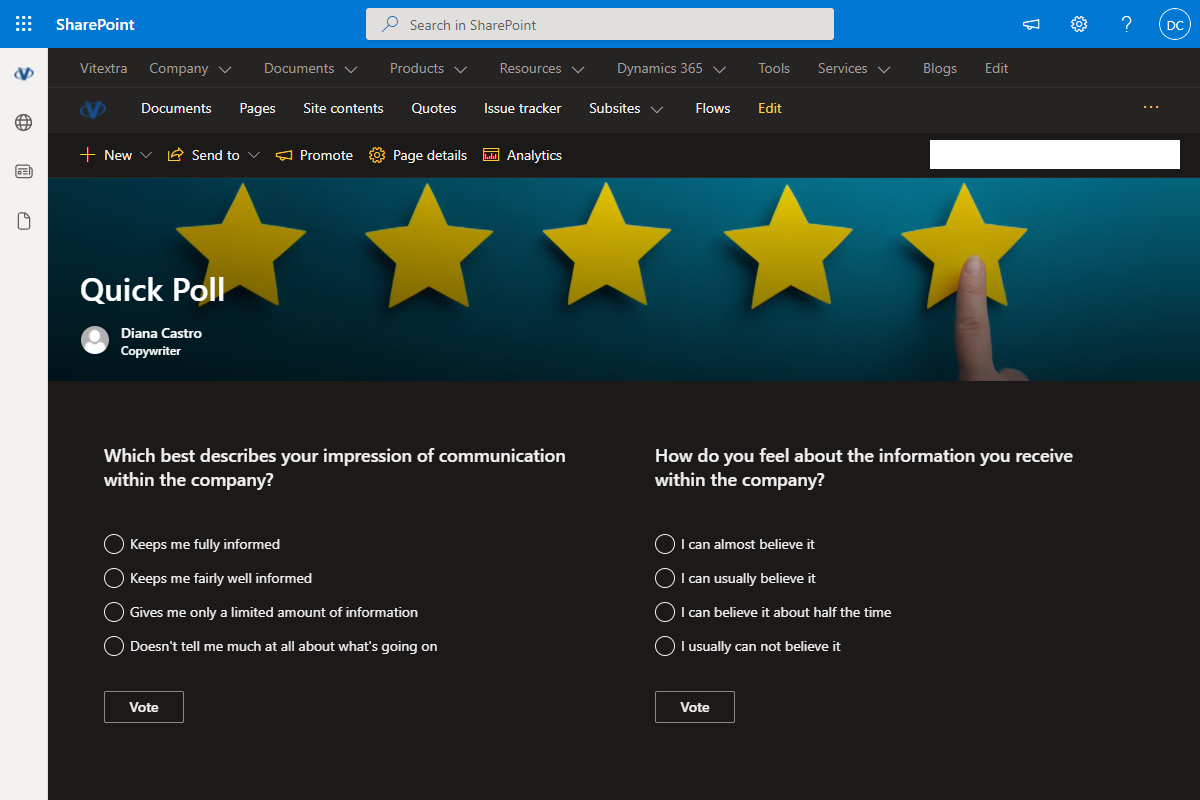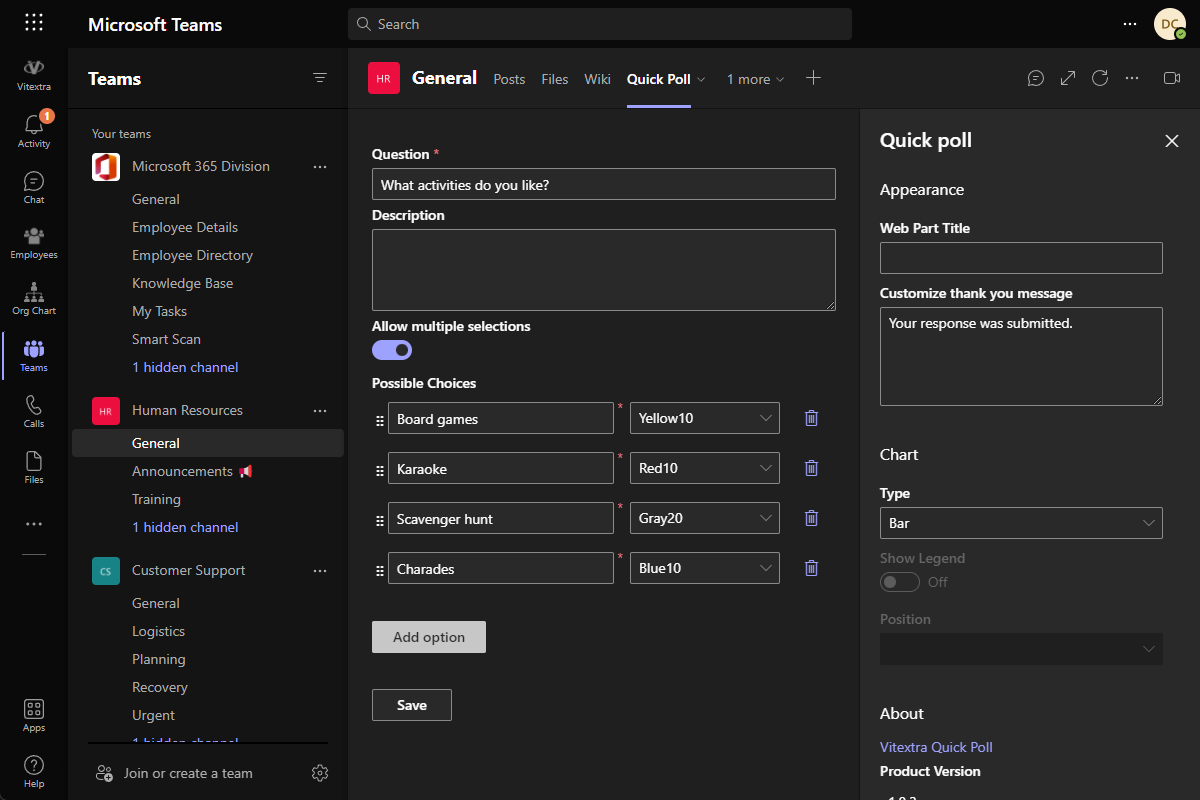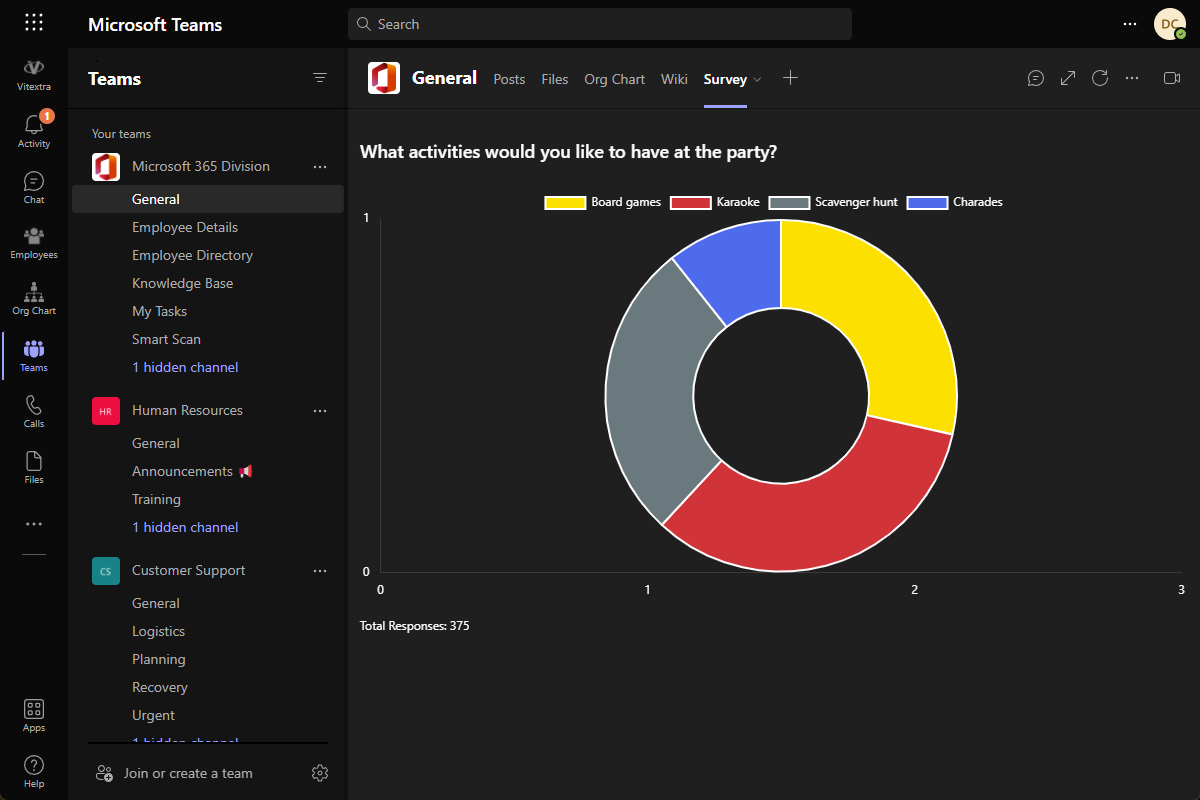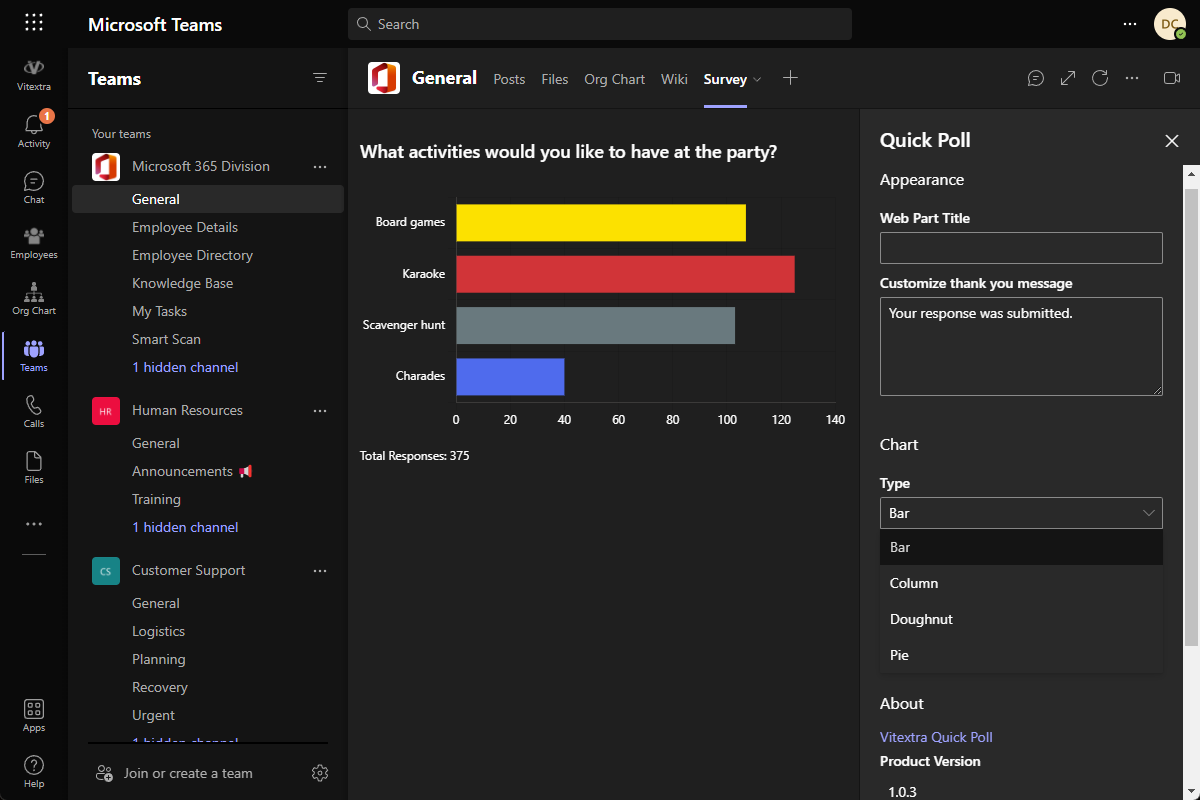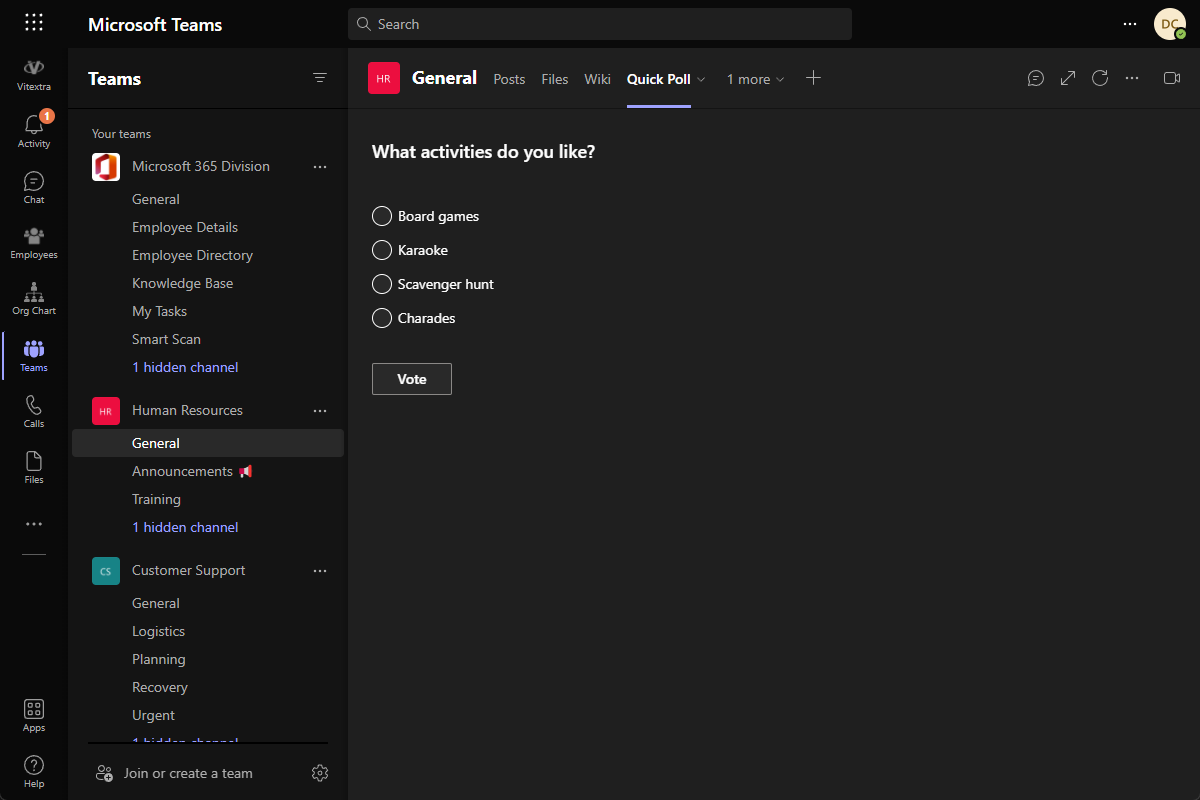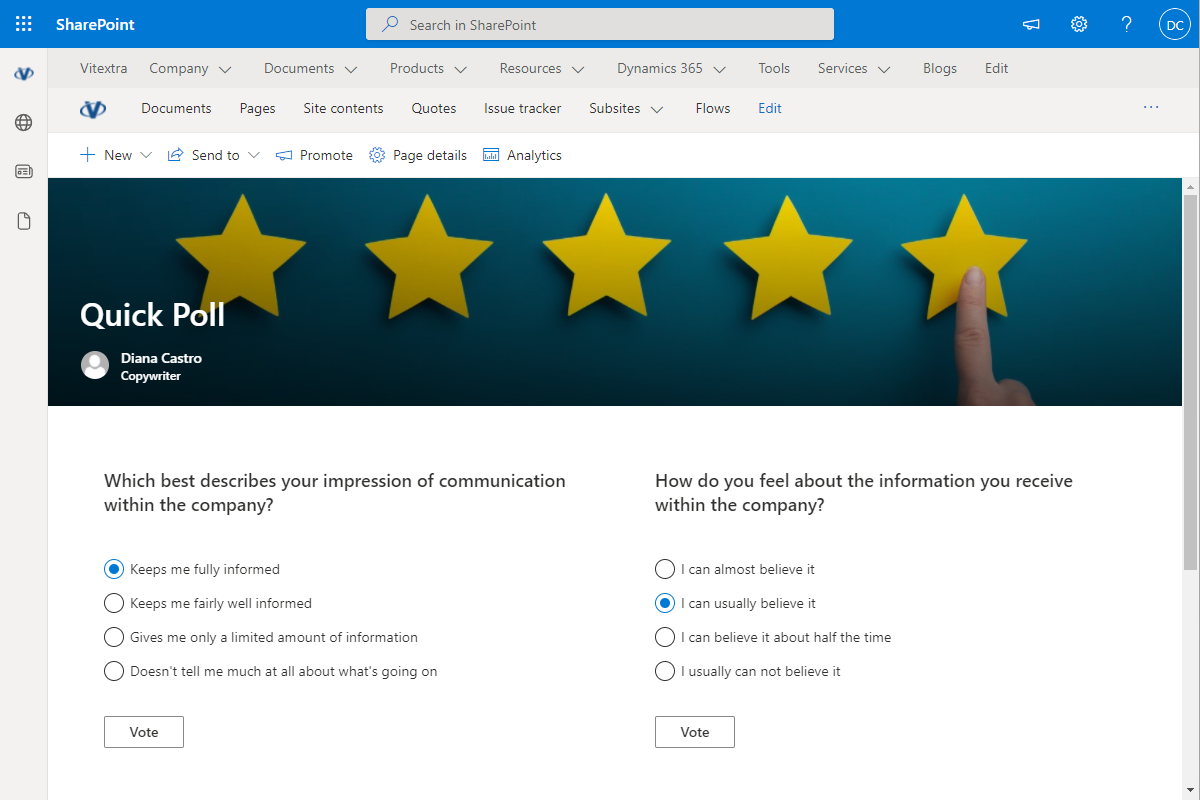 Knowledge Base
---
Read articles related to Quick Poll
Customer Questions
Some common questions about Quick Poll
Does this web part allow anonymous responses?
Yes. The Quick Poll web part supports anonymous poll responses. The list that stored responses hides information about users.
---
If a user has participated in a poll, does the web part allow them to vote again?
No. Once a user votes, there is no way to vote again or change the response.
---
Where are the voting results stored? Are they processed on Vitextra servers?
All the data created during the use of Quick Poll does not leave the site where the web part is located. Information about polls and user responses is stored in SharePoint lists.
---
How can I export the results into an Excel spreadsheet?
The results are stored in a hidden SharePoint list. Therefore all out-of-the-box SharePoint features such as Export to Excel, Power BI reporting, and others are available to you. You can open this list with a link in the web part details pane.
---
Can I install this web part to SharePoint Server 2016 or 2019?
No. The Quick Poll web part supports only SharePoint Online (Modern UI) and Microsoft Teams as a hosting platform.
---
No reviews yet
Be the first to review this product.
Supported Languages
العربية (المملكة العربية السعودية)
euskara (euskara)
български (България)
中文(中国)
hrvatski (Hrvatska)
čeština (Česko)
dansk (Danmark)
Nederlands (Nederland)
English
eesti (Eesti)
suomi (Suomi)
français (France)
galego (galego)
Deutsch
Ελληνικά (Ελλάδα)
עברית (ישראל)
हिन्दी (भारत)
magyar (Magyarország)
Indonesia (Indonesia)
Gaeilge (Éire)
italiano (Italia)
日本語 (日本)
қазақ тілі (Қазақстан)
한국어(대한민국)
latviešu (Latvija)
lietuvių (Lietuva)
македонски (Северна Македонија)
Melayu (Malaysia)
norsk bokmål (Norge)
polski (Polska)
português (Brasil)
português (Portugal)
română (România)
русский
slovenčina (Slovensko)
slovenščina (Slovenija)
español (España, alfabetización internacional)
svenska (Sverige)
ไทย (ไทย)
Türkçe (Türkiye)
українська (Україна)
Tiếng Việt (Việt Nam)
Cymraeg (Y Deyrnas Unedig)
Show more Show Less
Platforms
SharePoint Online
Microsoft Teams
9/14/2023
Minor bug fixes and performance improvements
---
10/19/2022
🚀 New Features:
Performance improvements
Migrate solution to SPFx v.1.15
---
2/11/2022
🐞 Fixed Bugs:
Localization bugs
Minor bugs
---
Discover more apps
---
Suggested apps
Send feedback
---
We would love to hear from you! Please take a moment to let us know about your experience.
We received your message. Many thanks!