Aggregate and display content from multiple RSS feeds on a SharePoint site
Multiple News Sources
Media Content Support
Instant Content Preview
Dark Theme Support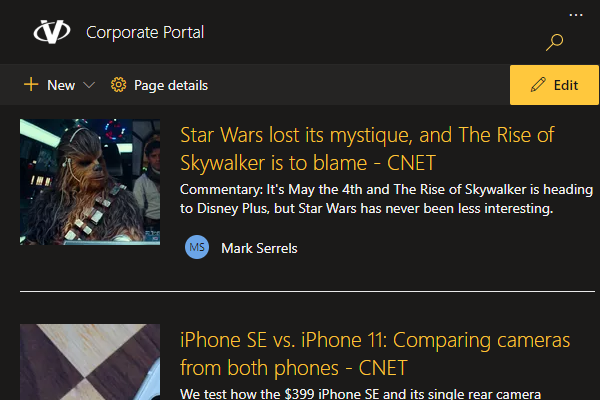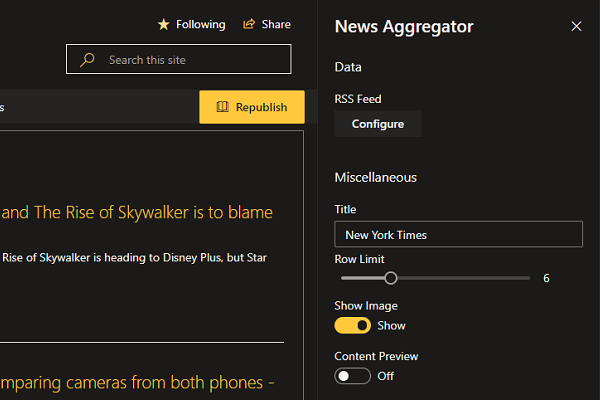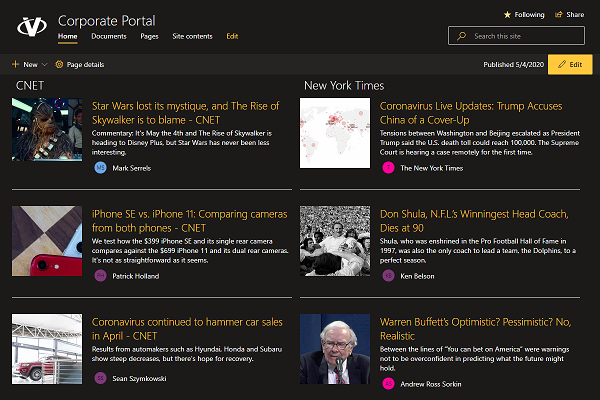 RSS Aggregator for SharePoint is a powerful web part that allows users to easily aggregate and display content from multiple RSS feeds on a SharePoint site. This web part provides a seamless integration with SharePoint, making it straightforward to configure and manage. The RSS Aggregator web part for SharePoint offers a range of features to enhance the user experience.
The RSS Reader web part for SharePoint provides a convenient and efficient solution for consolidating and presenting external content within the SharePoint environment. It allows users to keep their sites updated with the latest information and engage their audience with relevant and interesting content from various sources.
Multiple RSS Sources
With this web part, users can bring in external content from various sources such as news websites, blogs, or social media platforms, and present it in an organized and customizable way. Users can easily add RSS feed URLs, define the number of items to display, set the refresh interval, and choose the display format that best suits.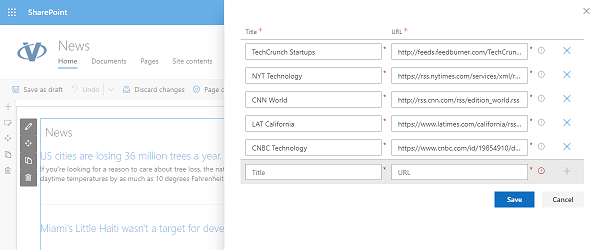 Media Content Support
Customize the appearance of the aggregated content by selecting from a variety of predefined layouts or by easily applying custom styling. The web part also supports filtering options, enabling users to display only specific content based on keywords or categories.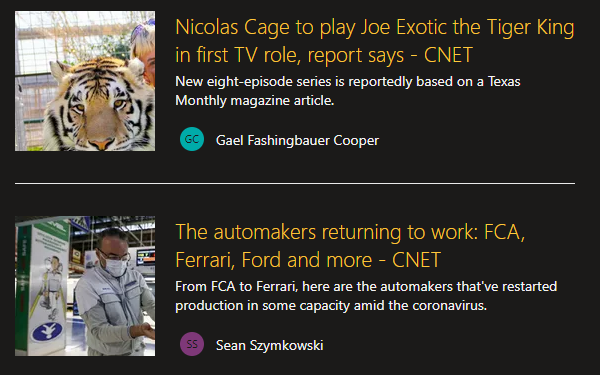 Lucas
Great webpart! Aggregated news feed
I'm able to create a single consolidated news feed from multiple sources with this news aggregator.
Supported Languages
العربية (المملكة العربية السعودية)
euskara (euskara)
български (България)
中文(中国)
hrvatski (Hrvatska)
čeština (Česko)
dansk (Danmark)
Nederlands (Nederland)
English
eesti (Eesti)
suomi (Suomi)
français (France)
galego (galego)
Deutsch
Ελληνικά (Ελλάδα)
עברית (ישראל)
हिन्दी (भारत)
magyar (Magyarország)
Indonesia (Indonesia)
Gaeilge (Éire)
italiano (Italia)
日本語 (日本)
қазақ тілі (Қазақстан)
한국어(대한민국)
latviešu (Latvija)
lietuvių (Lietuva)
македонски (Северна Македонија)
Melayu (Malaysia)
norsk bokmål (Norge)
polski (Polska)
português (Brasil)
português (Portugal)
română (România)
русский
slovenčina (Slovensko)
slovenščina (Slovenija)
español (España, alfabetización internacional)
svenska (Sverige)
ไทย (ไทย)
Türkçe (Türkiye)
українська (Україна)
Tiếng Việt (Việt Nam)
Cymraeg (Y Deyrnas Unedig)
Show more Show Less
Platforms
SharePoint Online
Microsoft Teams
8/29/2023
🚀 New Features:
#22124 RSS Feed Auto Refresh
#22125 New layouts for the RSS feed: Compact, Newsletter and Cards
#22127 Support Microsoft Teams as a Hosted Platform
#22128 Filtering feed by category
---
7/5/2022
🚀 New Features:
Performance improvements
Migrate solution to SPFx v.1.15
🌐 Added Language Support:
Basque (Basque)
Bulgarian (Bulgaria)
Croatian (Croatia)
Estonian (Estonia)
Galician (Galician)
Hebrew (Israel)
Hindi (India)
Hungarian (Hungary)
Indonesian (Indonesia)
Irish (Ireland)
Lithuanian (Lithuania)
Macedonian (Macedonia, FYRO)
Malay (Malaysia)
Portuguese (Brazil)
Portuguese (Portugal)
Romanian (Romania)
Serbian (Latin, Serbia)
Slovak (Slovakia)
Slovenian (Slovenia)
Vietnamese (Vietnam)
Welsh (United Kingdom)
---
Discover more apps
---
Suggested apps
Send feedback
---
We would love to hear from you! Please take a moment to let us know about your experience.
We received your message. Many thanks!