Daily News and RSS feeds delivered right to your SharePoint Site
Multiple News Sources
Media Content Support
Instant Content Preview
Dark Theme Support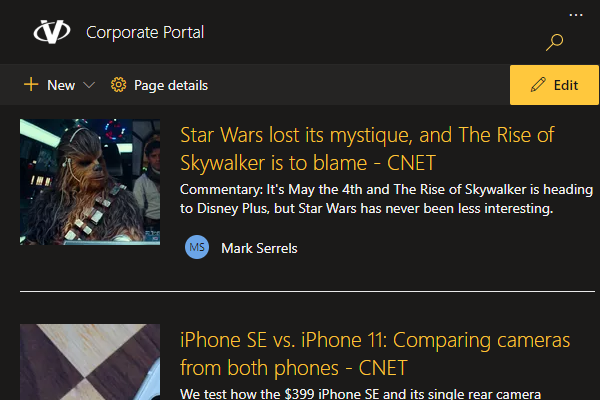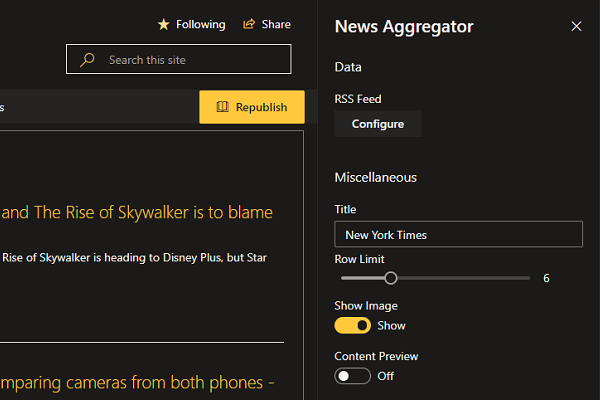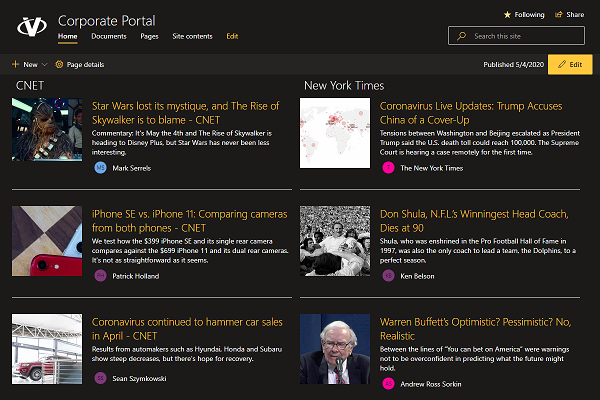 Multiple News Sources
Vitextra News Aggregator makes it possible to build your own custom news feed. News Aggregator supports RSS-based feeds including SharePoint sites, WordPress blog, and public media feeds.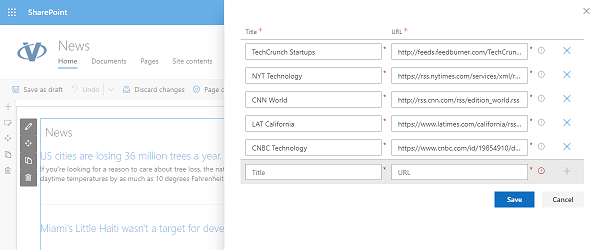 Media Content Support
Media content such as article image or thumbnail displays in the feed unless this feature is turned off.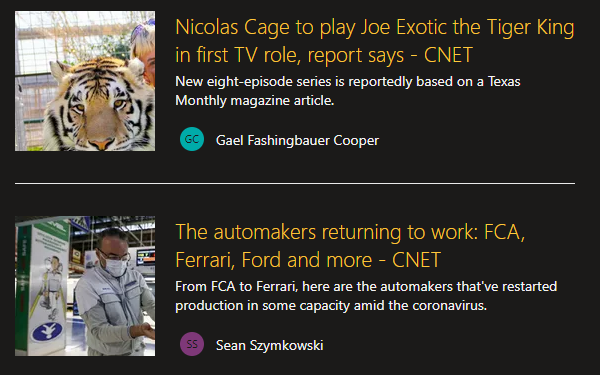 Lucas
Great webpart! Aggregated news feed
I'm able to create a single consolidated news feed from multiple sources with this news aggregator.
Supported Languages
العربية (المملكة العربية السعودية)
euskara (euskara)
български (България)
中文(中国)
hrvatski (Hrvatska)
čeština (Česko)
dansk (Danmark)
Nederlands (Nederland)
English
eesti (Eesti)
suomi (Suomi)
français (France)
galego (galego)
Deutsch
Ελληνικά (Ελλάδα)
עברית (ישראל)
हिन्दी (भारत)
magyar (Magyarország)
Indonesia (Indonesia)
Gaeilge (Éire)
italiano (Italia)
日本語 (日本)
қазақ тілі (Қазақстан)
한국어(대한민국)
latviešu (Latvija)
lietuvių (Lietuva)
македонски (Северна Македонија)
Melayu (Malaysia)
norsk bokmål (Norge)
polski (Polska)
português (Brasil)
português (Portugal)
română (România)
русский
slovenčina (Slovensko)
slovenščina (Slovenija)
español (España, alfabetización internacional)
svenska (Sverige)
ไทย (ไทย)
Türkçe (Türkiye)
українська (Україна)
Tiếng Việt (Việt Nam)
Cymraeg (Y Deyrnas Unedig)
Show more Show Less
Platforms
SharePoint Online
Microsoft Teams
7/5/2022
🚀 New Features:
Performance improvements
Migrate solution to SPFx v.1.15
🌐 Added Language Support:
Basque (Basque)
Bulgarian (Bulgaria)
Croatian (Croatia)
Estonian (Estonia)
Galician (Galician)
Hebrew (Israel)
Hindi (India)
Hungarian (Hungary)
Indonesian (Indonesia)
Irish (Ireland)
Lithuanian (Lithuania)
Macedonian (Macedonia, FYRO)
Malay (Malaysia)
Portuguese (Brazil)
Portuguese (Portugal)
Romanian (Romania)
Serbian (Latin, Serbia)
Slovak (Slovakia)
Slovenian (Slovenia)
Vietnamese (Vietnam)
Welsh (United Kingdom)
---
3/22/2021
🚀 New Features:
Filter RSS sources
Adaptive layout
---
Discover more apps
---
Suggested apps
Send feedback
---
We would love to hear from you! Please take a moment to let us know about your experience.
We received your message. Many thanks!