Configurable Search Web Part for SharePoint Online
Configurable Web Part
Tabs to Switch Between Search Results Sources
Customizable Item Layout
Action Buttons
Refinement Panel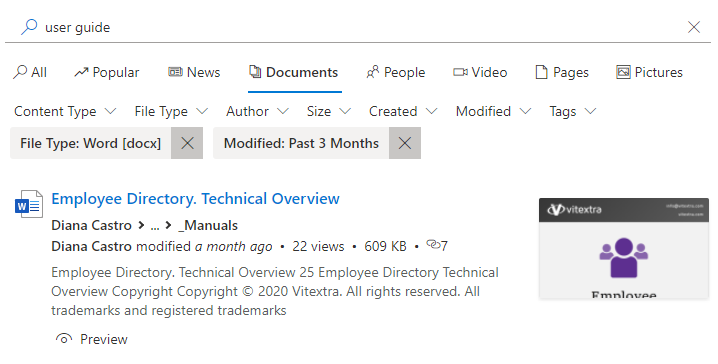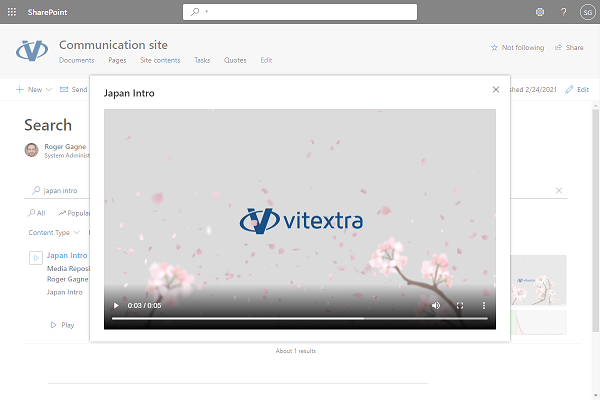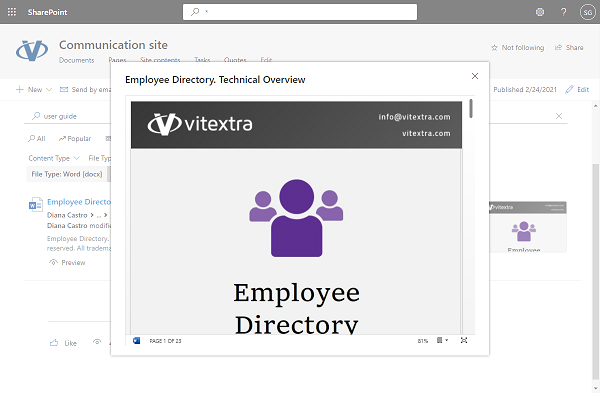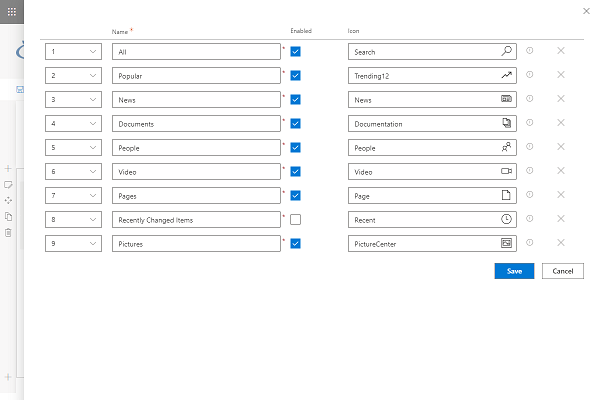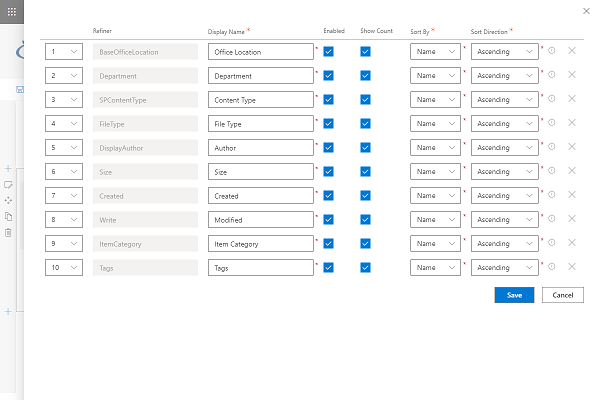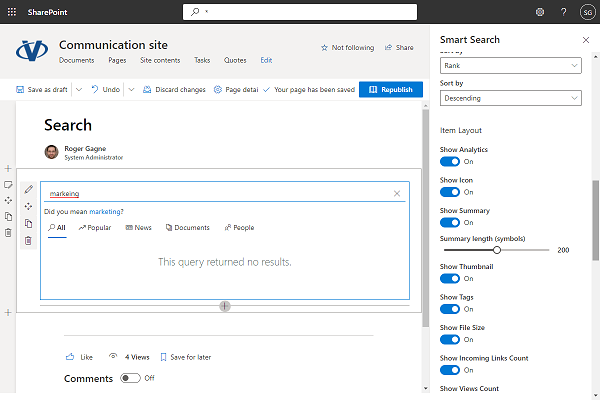 Configurable
Vitextra Smart Search Web Part has more than 30 configurable parameters to meet any modern search center requirements.
Customizable item layout makes it possible to change the view of search results; from the title only to rich view containing such information as a breadcrumb to the item location, thumbnail of the document, analytics sparkline of recent views and viewers, summary, taxonomy tags, file size, and others.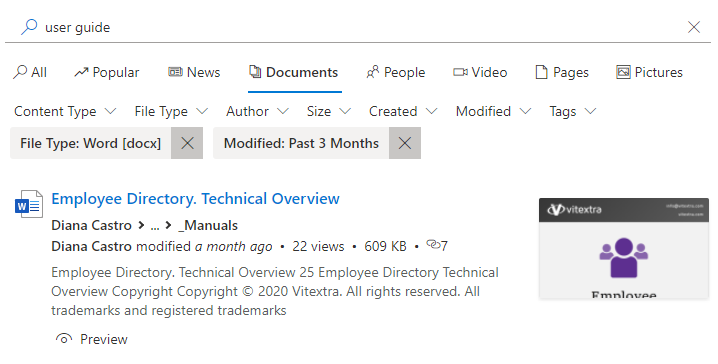 Search Results Sources
The Smart Search supports two operational modes:
Single Source. Choose one of the nine built-in search sources to narrow the search scope.
Multiple Sources (Tabs). Choose search sources and their order to allow users to switch between them.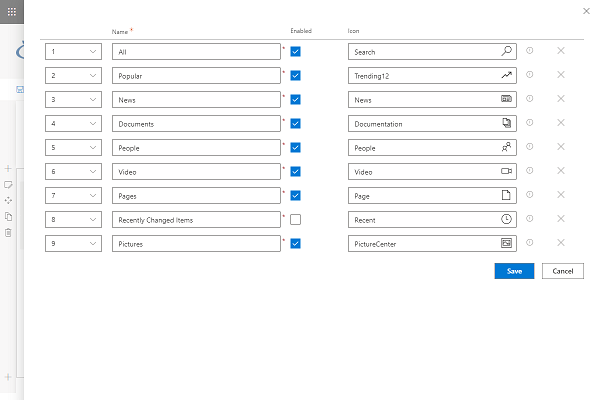 Action Buttons
There are the Action Buttons that are available depending on the type of search result:
Download. Direct link to the document to download it immediately
Preview. Open Microsoft Office document in the dialog to view its content
Play. Play video file in the dialog
The Action Buttons are to perform some actions keeping the context.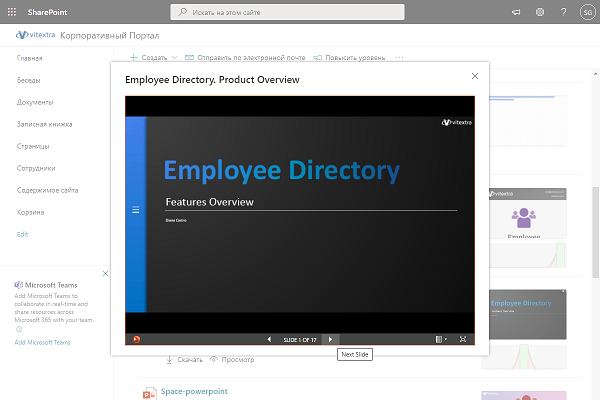 Customer Questions
Some common questions about Smart Search
Is it possible to add a custom search source?
No. As for now, the Smart Search does not support custom search sources.
---
Is it possible to replace built-in SharePoint search with this solution?
---
May users who do not have permissions for particular documents see them in the search results?
No. The Smart Search uses a built-in SharePoint Search Service. The Search Service trims search results at query time based on current user permissions.
---
David
search meeting recording
this app allowed me to resolve issue with searching teams meetings
Supported Languages
العربية (المملكة العربية السعودية)
български (България)
中文(中国)
čeština (Česko)
English
suomi (Suomi)
français (France)
Deutsch
italiano (Italia)
日本語 (日本)
latviešu (Latvija)
русский
español (España, alfabetización internacional)
Türkçe (Türkiye)
українська (Україна)
Show more Show Less
Platforms
SharePoint Online
Microsoft Teams
4/24/2022
🚀 New Features:
Display secondary search results
🐞 Fixed Bugs:
Current page number is not highlighted
Thumbnails not displayed for some search results
---
2/23/2022
🐞 Fixed Bugs:
Filter panel is missing
Wrong link to a meeting record
🚀 New Features:
Define the scope of the search results (Tenant, Site Collection, Site)
🌐 Added Language Support:
Arabic (Saudi Arabia)
Bulgarian (Bulgaria)
Czech (Czechia)
German (Germany)
Italian (Italy)
Japanese (Japan)
Turkish (Turkey)
Chinese (Simplified, China)
---
6/27/2021
🚀 New Features:
Support Microsoft Teams
Support Theme Variants
🐞 Fixed Bugs:
🌐 Languages Support:
---
Discover more apps
---
Suggested apps
Send feedback
---
We would love to hear from you! Please take a moment to let us know about your experience.
We received your message. Many thanks!