Responsive Design
Customizable Size of Tile, Icon, and Font
Rich Color Palette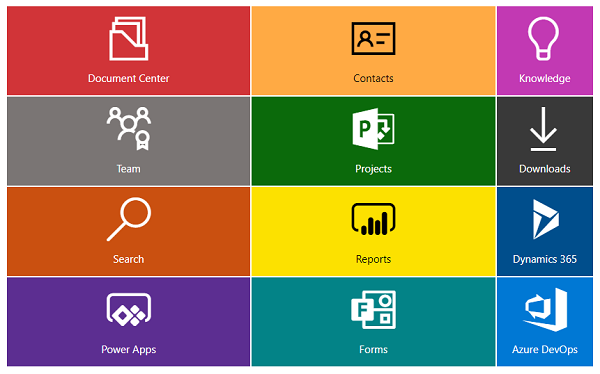 Customizable Tiles
Create and customize Tiles with the easy-to-use configurator. Smart Tiles Web Part supports official Microsoft 365 icons to allow you to create tiles you need.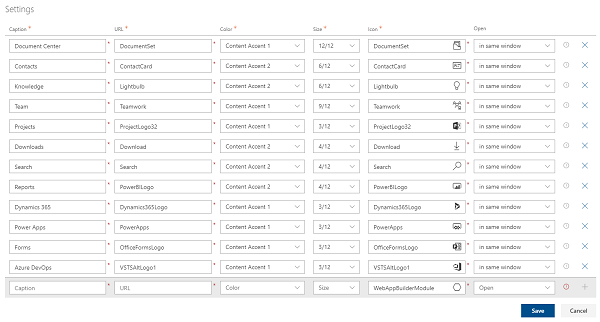 Responsive Design
Smart Tiles supports a powerful flexbox grid to build a custom layout of your tiles. Twelve column system, customizable internal margin, and indent between tiles makes it possible to fit your corporate branding.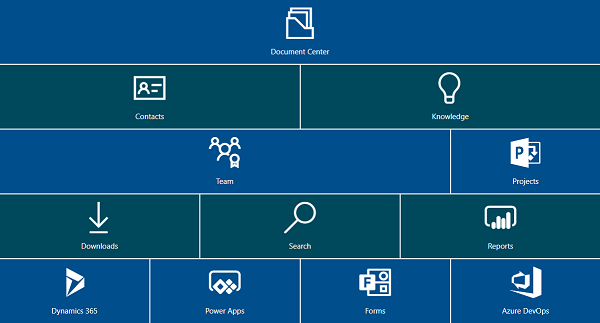 Customer Questions
Some common questions about Smart Tiles
Can I install Smart Tiles on SharePoint 2016 or SharePoint 2019?
No. By today Smart Tiles can be installed only on SharePoint Online environment. On-premise SharePoint not supported. By the way, we are working on supporting of SharePoint 2019. SharePoint 2016 and early versions will no be supported.
---
Can I use Smart Tiles Web Part with a full-width section on a SharePoint page?
Yes. Smart Tiles supports the full-width column. So, you can add the web part to any type of layouts provided by SharePoint Modern Page
---
What will happen if I add new users to my tenant? How will it affect my license?
We provide a tenant-wide subscription. It does not matter how many active users you have. All users are able to use Smart Tiles web part with no limitation. Adding a new user as well as disabling or blocking one will not affect your license.
---
Is it possible to use custom color for the tiles?
No. You can use one of predefined 33 colors as well as one of six accents colors according to your SharePoint Site theme.
---
Where I can find all the available icons?
You can use any of official Fluent UI Icons. There are 1800+ icons you can use for your SharePoint portal.
---
David
Full-width support!!
Awesome web part! I could set up branded tiles and placed the web part in a full-width section. No more useless space around the app.
Supported Languages
Nederlands (Nederland)
English
Deutsch
Ελληνικά (Ελλάδα)
latviešu (Latvija)
norsk bokmål (Norge)
русский
español (España, alfabetización internacional)
українська (Україна)
Platforms
SharePoint Online
2/12/2023
🚀 New Features:
#22091 Microsoft Product Icon Set #22092 File Type Icon Set
🐞 Fixed Bugs:
Minor bug fixes and localization improvements
---
11/21/2021
🚀 New Features:
Added ARIA tags for tiles
🐞 Fixed Bugs:
The long text in the navigation tile is not cut off
Close dialog button not visible
Icons not presented in Microsoft Teams
---
5/16/2021
🐞 Fixed Bugs:
Configuration pane of the web part is empty
Hover effect not working
---
Discover more apps
---
Suggested apps
Send feedback
---
We would love to hear from you! Please take a moment to let us know about your experience.
We received your message. Many thanks!