Creating Shortened URL for the Current Page
9/23/2021
This article describes how to create a shortened link to the SharePoint page with the Vitextra Short URL add-on.
Introduction
Vitextra Short URL allows the creating and use of shortened URL to any content within SharePoint as well as external content.
For example, the following hyperlink to a folder located in SharePoint Document Library:
https://portal.vitextra.com/Products/OnPrem/Shared%20Document/AllItems.aspx?RootFolder=%2FShared%20Documents%2FSales%20Literature&FolderCTID=0x012000ECFC18C12C0E514D97CB9F8300A32525&View=%7BC25AA6EC-0806-4A71-86FB-2B9583C2A208%7D
can be shortened to:
https://portal.vitextra.com/salesdocs
Create Short URL
To create new short url to the current page go to Site Actions and click Create Short URL: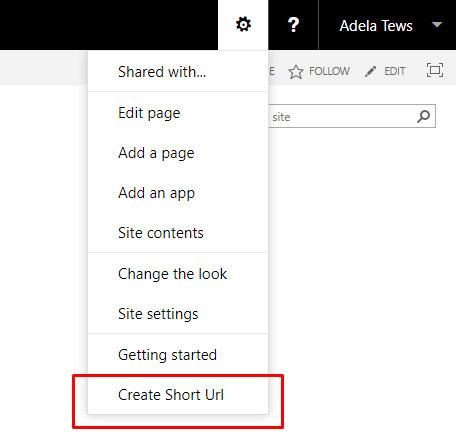 When the Create Short URL item has been selected Short URL dialog opens and you can edit properties of the URL if needed.
📝 Note
Vitextra Short URL creates a new shortened hyperlink automatically in case there is no active one for the current page.
Change URL
In the Short URL dialog, you can change the URL and other properties such as expiration date and owner.
❗ Important
Short URL must have no special characters such as ?, #, /, and &.
For each Short URL you can set the following settings:
Expires. Set the date after which the URL will stop working.
Owner. Set the owner of the URL who can be contacted for suggestions and feedback.
💡 Tip
Keep Expires field empty if you need a permanent Short URL.