Document Number Generation in SharePoint
Это содержимое недоступно на вашем языке. Вот версия на английском языке.
Vitextra Number Generator makes it possible to automatically generate numbers or names in the SharePoint document library or list.
📝 Note
Number Generator supports specific column types such as ID, Lookup as well as custom types.
Precondition
To set up and use formulas, make sure the Vitextra: Number Generator feature is activated on the site collection.
Go to Site Settings and click Site collection feature: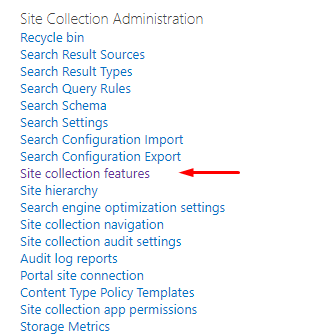 Scroll down to the feature and select Activate if it is not activated yet:

Numbering Schemes
Column value generation managed by Numbering Schemes defined on list/library level.
Go to list or library settings where you need to apply column auto-population and select Number Generator under General Settings heading: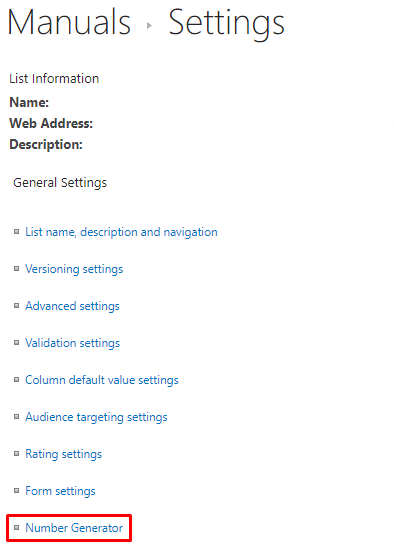 Use this list to manage numbering schemes for the list. Click New Item button to create a new numbering scheme.

The numbering scheme form contains the following fields:
Name
Content Type
Field
Formula
Regenerate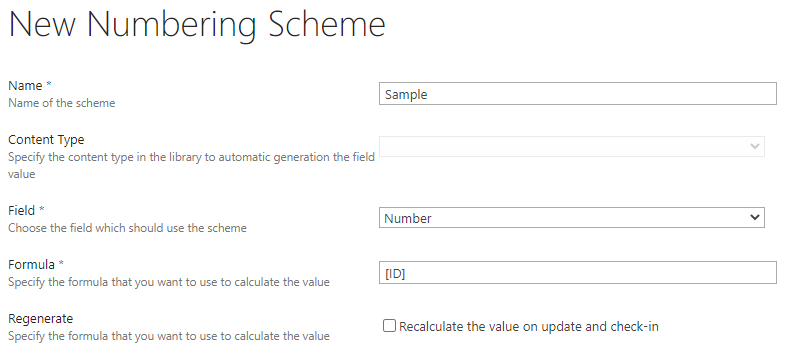 📝 Note
Content type field greyed out in case of content types disabled for the list or document library.
Formula Format
The numbering formula supports three types of data:
To reference Column wrap its display or internal name in square brackets:
[Column Name]

To reference Sequence wrap name of the sequence with leading "!" symbol in square brackets:
[!Sequence Name]

All other text in the formula appears as it is in the result.
Sample formula:
ID: [ID]. Created at [Created:MM/dd/yyyy]

Result of the formula above for item created at 4/12/2020 with ID = 1:
ID: 1. Created at 4/12/2000

Samples
For demo purposes, there is a document library that contains custom fields listed below:
Product. Single line of text
Status. Choice
Publish Date. Date and Time
Number. Single line of text
Sample formulas will be used to populate Number column in the document library.
Sample #1. Populate column with ID field
The formula of the numbering scheme to populate a column with ID field:
[ID]

Result in the document library:

You can combine many fields to populate column values:
[ID].[Status]


Sample #2. Format Numeric Field
Number Generator supports formatting. To define the field's format, specify it after the colon: [Field:Format]. Supported format specifier:
| Format Specifier | Name | Description |
| --- | --- | --- |
| 0 | Zero Placeholder | Replaces the zero with the corresponding digit if one is present; otherwise, zero appears in the result string. |
| # | Digit placeholder | Replaces the "#" symbol with the corresponding digit if one is present; otherwise, no digit appears in the result string. |
| . | Decimal point | Determines the location of the decimal separator in the result string. |
| , | Group separator | Inserts a localized group separator character between each group. |
Format column with repeated ID field in different formats:
[ID:0000] - [ID:####] - [ID:##00]


Sample #3. Format Date Field
You can use the same approach for date column formatting.
Format date column (Publish Date), different formats:
[Publish_x0020_Date:MM/dd/yyyy] - [Publish_x0020_Date:yy-MM-dd-HH-mm-ss]


Sample #4. Reference Sequence
Number Generator supports cross-site sequences to generate unique numbers. To reference a sequence in a formula, use its name with a leading !:
[!ManualSequence]


Sample #5. Use System Fields
Number Generator allows you to populate column with system fields' values. Some of the system fields are presented in the table below:
| Field | Description | Examples |
| --- | --- | --- |
| File_x0020_Type | Extension of the file | docx, pdf |
| UniqueId | Unique identifier of the item | 95fed722-c225-4f02-8c8d-7b0515e0777f |
| FileSizeDisplay | Size of the file | 616311 |
| ContentVersion | Version of content of the file | 2 |
| _UIVersionString | Version of the item | 15.0 |
| Author | Users who created the item | John Harrison |
| Editor | User who last modified the item | Henry McDavid |
[Author].[Created:yyyy] v.[_UIVersionString]